Over-packaging seems to be the norm in our excessive society but too much packaging causes problems for the consumer, as well as the planet.  It's frustrating to tear through huge boxes filled with endless packaging foam to finally unwrap the tiny iPod you've been waiting on – getting rid of all that waste is an entirely new battle, not to mention all the unnecessary space required during shipping for too much packaging.  We've gathered some of the most ridiculous examples of over-packaging and included a few ways you can help diminish the excess.
These 2 little bitty Bluetooth ear hooks from Motorola were really the only items in this super-sized box.  The 2-inch components could have easily shared a padded envelope and maybe even saved on shipping costs – but everyone appreciates a big complimentary box of air. (Source: Overpackaging on Gizmodo)
This over-packaging mishap was committed by the Danish kitchenwares company, Rosti.  Within this humongous box, 2 pizza pans and a water pitcher could have safely survived in a container less than half the size. (Source: Bamakko)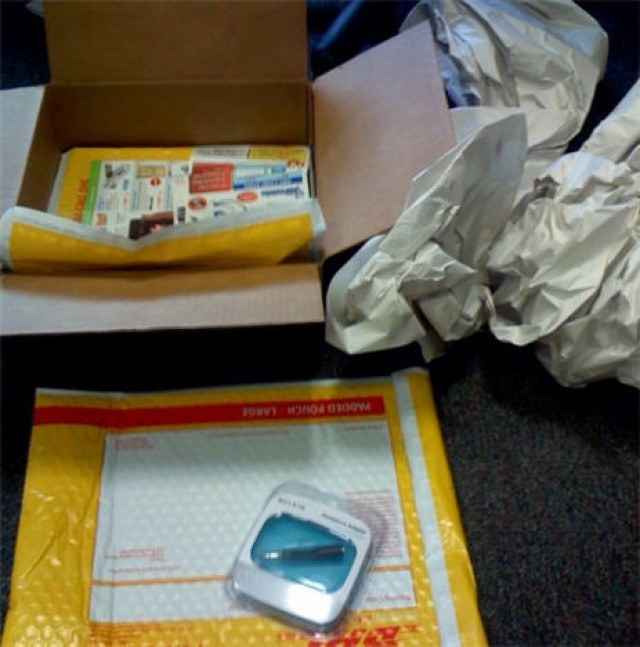 The tiny iPhone headphone adapter above, already in it's manufacturing packaging, was shipped from PC Connection. The bubble envelope it was placed in would have probably been sufficient for shipping, but to be on the safe side(?), the envelope was carefully placed on top of another empty envelope, surrounded by needless paper, and sent on its way in a waste of cardboard. (Source: Consumerist.com)
Amazon seems to be a fan of excessive packaging, earning themselves multiple spots in our collection. This particular shipment was nothing but the minute iPod Nano – in a box big enough to hold a child. (Source: Overpackaging.com)
Dell (or a Dell vendor, according to their spokesperson via Treehugger) is also guilty of overdoing the packaging materials. This lonely little flash drive's only companion inside a way-too-big empty box was a waste of shipping paper. Source: Overpackaging at Treehugger)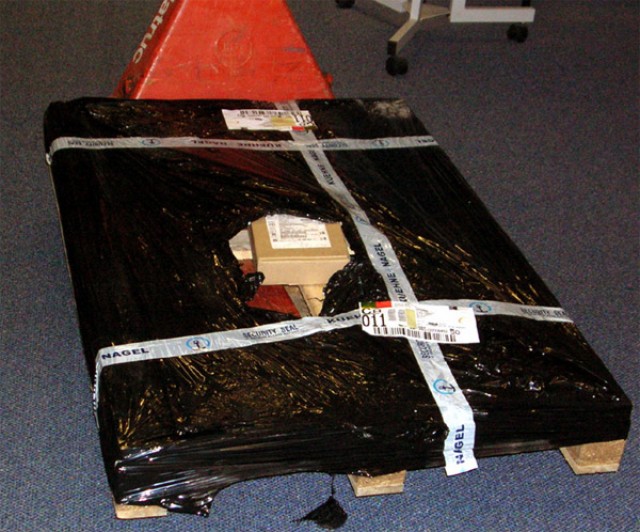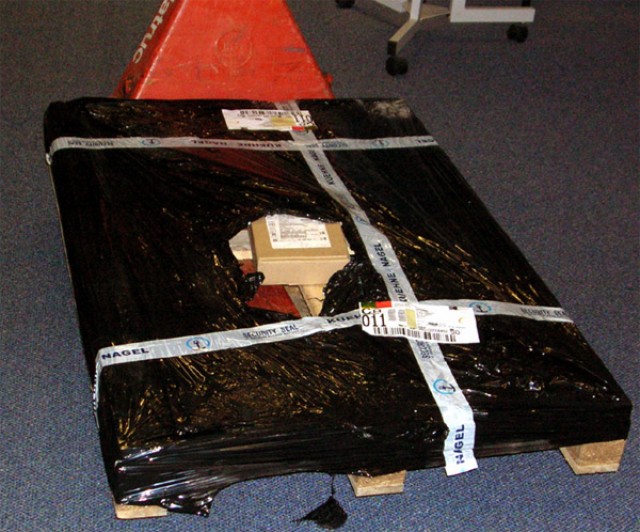 HP isn't doing much better. What would  you expect to find after unwrapping this much plastic and tape – all neatly packaged on its very own wooden pallet?  A small box that could have been shipped without the pallet and extras, containing nothing more than a mere PS2 mouse. (Source: The Register)
Notice the small bottle sitting in front of all these boxes? The glass bottle contains 1 gram of a toxic chemical called ethidium bromide. There were definitely no worries of contamination the way this thing was (over)packaged – bubble wrap, inside a large paper-filled bag, inside a closed tin, in a really big box, in an even bigger box. (Source: Too Much Packaging at Wired)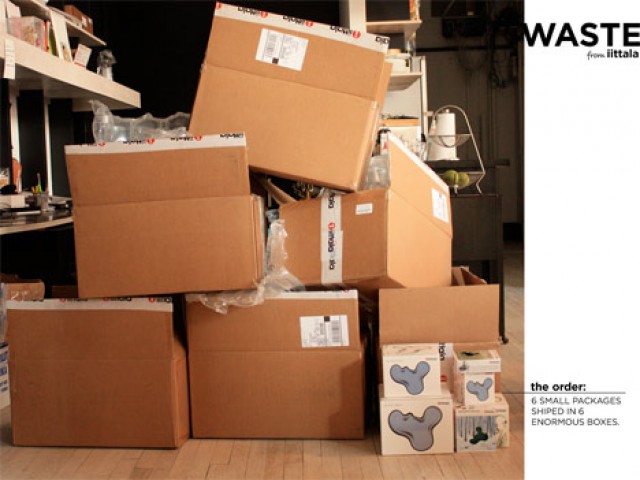 This is a first-class example of waayy too much packaging. The 6 very small boxes in the corner were shipped by iittala. Rather than pack all 6 boxes in one larger box (with plenty of room to spare), each little box deserved its own big box for one great big over-packaging mistake. (Source: Treehugger)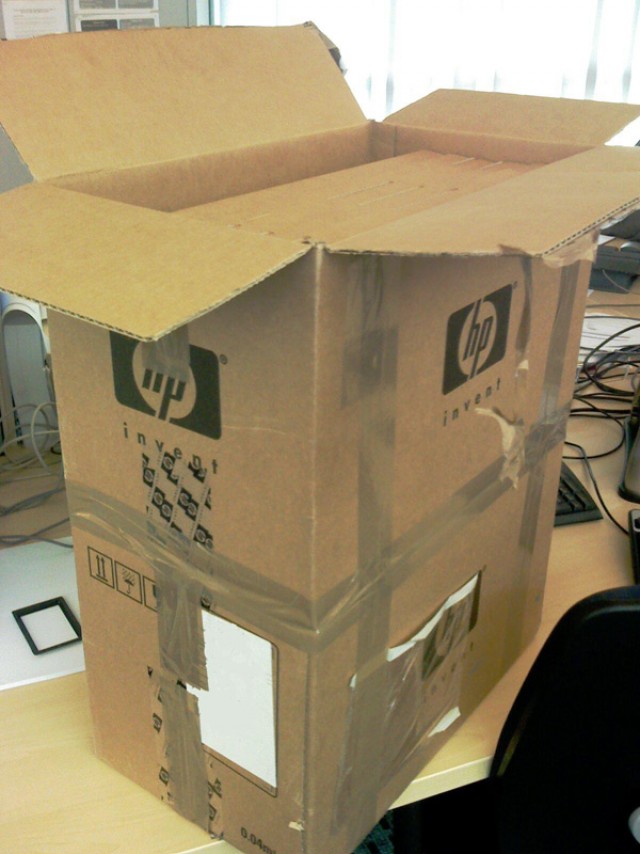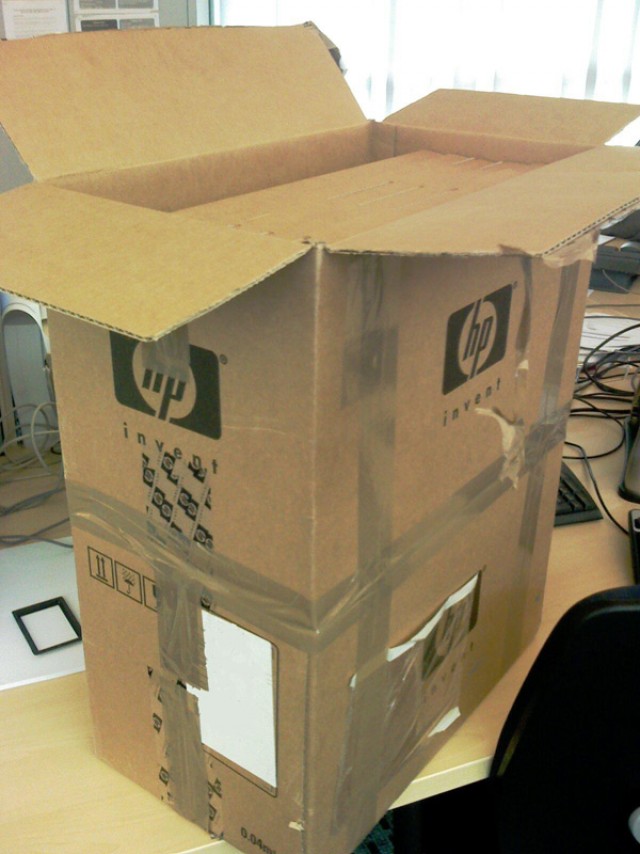 What would you like in your gigantic HP box? I'll bet it isn't 32 sheets of paper! The mega box shown here was filled with 16 smaller boxes, each containing 2 pages of obviously fragile info. Do envelopes still exist? (Source: The Register)
This is another over-packaging example from Amazon.  The lone webcam couldn't have asked for a bigger shipping box unless it was coming from HP!  (Source: Tom Bullock via Flickr)
What Can You Do?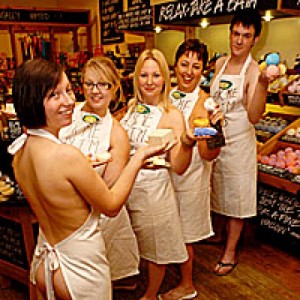 Employees of LUSH Cosmetics get naked to draw attention to the waste of unneeded packaging.  The 'bare message' campaign has been held for 2 years now, with 24 different locations participating in 2008.
UK Environment Minister, Ben Bradshaw, has given shoppers a new voice in the fight against over-packaging.  After a disappointing reduction of only 12% between 1999 and 2005, consumers were urged to leave their excess and unnecessary packaging at the checkout counter – forcing grocers to take action.
Tesco is working to meet the goal of waste reduction by 2010 – with the help of their customers.  Shoppers are asked to dump packaging they find excessive before leaving the store, helping the company learn where the biggest reductions can be made.
If leaving your packaging waste at the counter isn't an option and getting naked doesn't seem like the most effective strategy, continue to submit your excessive packaging photos to websites like ours and those mentioned above.  
You can also do your best to avoid products with excessive packaging and send a note to online companies that over-package to let them know you're disappointed.  Contact Congress and the Obama administration and urge the US to step forward and take action against excessive packaging.