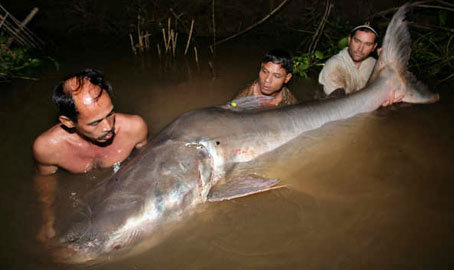 Captured just before midnight on November 13 by fishers in Cambodia, this Mekong giant catfish is 8 feet long (2.4 meters long) ands weighs 450 pounds (204 kilograms).
Kinky Apes Get Protection: The bonobo ape has rather prolific mating habits. The kinky apes are one of human beings' two closest relatives and officials in the Congo have announced the creation of a massive rainforest preserve intended to protect them.
Can Chocolate Save the Environment? A rather unique solution to rainforest preservation through the introduction of Cocoa trees that shows that many Latin Americans are taking tropical deforestation seriously… and doing something about it! Excellent article.
Cleaning Up Oil Spills with Hair and Mushrooms? The recent Cosco Busan oil spill in the San Francisco Bay may have just met its match in an eco-cleaning solution that uses human hair and mushrooms! A group of intrepid volunteers has embarked on a project to clean up oil at San Francisco's beaches using an unusual, yet totally organic, method of waste removal: