Vehicles that draw their energy from green sources have created an exciting new frontier in the travel industry! At least, that's what most people think. When it comes to boats, though, alternative energy crafts are nothing new. Back in the day (1902 in fact!), Mary Gordon was an electric-powered boat sporting stained glass windows, silk curtains and luxurious, velvet covered chairs.
So how far have we really come since then?
Pretty damn far.
This is Earthrace, a state-of-the-art speedcraft that runs on human fat, in addition to other biodiesel fuels. The crew of this vessel is currently racing to break the world speed record for circumnavigating the globe.
According to the Guardian, Earthrace is a 24 meter powerboat that runs on 100% renewable biodiesel fuels and has a net zero carbon footprint. Furthermore, Earthrace is the first boat in the world to use hemp composite in the construction of the ship body. Lubricants for the ship are made from vegetable oils, bedding foams are made from canola oils, and the crew even eats organic/local foods and wears hemp and bamboo clothing.
Here's the 70 ft. Mary Gordon–an electric-powered boat–taking a crowd for a tour in 1902. Note how Earthrace appears to be a direct descendant of 'Ms Gordon':).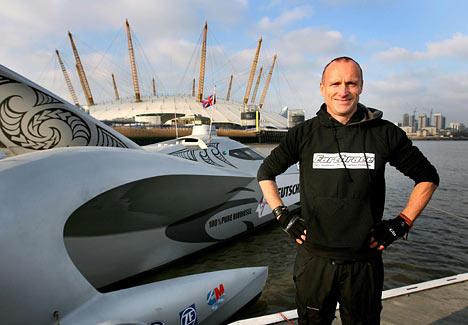 Pete Bethune, the New Zealand skipper of Earthrace, believes the boat can help advance biodiesel as a genuinely viable alternative to petroleum diesel. Bethune and his family are more than a little invested in promoting fuel alternatives-they sold their home and belongings to fund the boat. Demonstrating further commitment to the cause, Bethune underwent liposuction and donated enough of his personal body fat to produce 100ml of biofuel.
Earthrace is now on pace to break the world speed record. The current record holder is British boat Cable and Wireless Adventurer, which circumnavigated the globe in 75 days a decade ago. The race is going well–after a little trouble in paradise, the crew repaired a broken engine and powered into Palau this week, 2400 miles ahead of schedule. Check here to see where Earthrace is right now.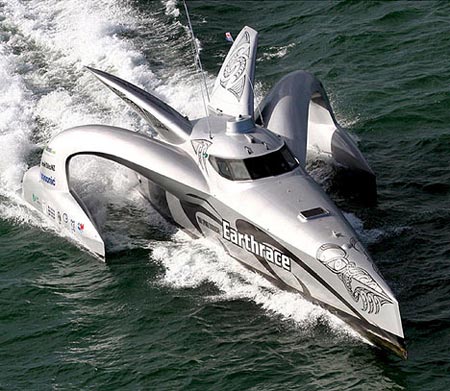 What`s in the future for Earthrace's technology? Well, the "greenest" part of Earthrace's design isn't its two Cummins Mercruiser QSC 540 engines-it's the unique and incredibly efficient hull.
Unlike other boats that ride on top of waves, Earthrace pierces through them with its trimaran hull. The design allows this boat to go far faster in rough seas than conventional vessels. The piercing is controlled by pumping up to 2.5 tons of water into a special ballast tank in the bow. The faster the boat is travelling, the more it pierces. The limiting speed factor is the crew's ability to handle the ride, rather than the capacity of the boat. In rough seas, this boat is fierce. If that doesn't sound like it's for you, consider a more relaxed alternative such as a solar powered boat.
[youtube]http://www.youtube.com/watch?v=5LpV9qWK3u8[/youtube]
When not racing or engaged in publicity events, the crew just likes to have fun with their powerful craft. Check them out whooping it up in this wakeboarding video in Loch Ness, Scotland. Watch out, Nessie!