Where's the beef?
It's not down on the farm these days, alas. The healthy, natural beef of years gone by is almost extinct. It has been driven out by cheap beef, raised on gigantic feedlots, fattened on corn. The problem is: corn isn't healthy for cows, and raising beef this way ultimately isn't healthy for us either. Here are some things to watch out for and ways to be more healthy when it comes to your beef-related choices.


If you ask children, "What do cows eat?", they'll tell you: "Cows eat grass!" Not corn – grass. Kids are smart; smarter, it seems, than the barons of agribusiness, who haven't figured that part out yet.
Why do farmers feed cows on corn? First, because it's cheap, thanks to massive federal subsidies. Second, because  starchy corn forces cows to fatten up faster. Cattle evolved a complex digestive system to derive nutrition from rangeland grasses; feed them on corn and their digestion goes haywire, causing flatulence, acid stomach, and massive weight gain.
This isn't healthy for cows: with their immune systems damaged, the cows get sick – an amazing array of illnesses, ranging from liver abscesses and infections to dust-inspired  respiratory disease. So agribusiness loads them up with antibiotics to keep them alive long enough to get them to the slaughterhouse – and your plates.
This also isn't healthy for people: this beef ends up lower in nutrients (everything from vitamin A to vitamin E) and higher in fat – the bad kind, cholesterol-boosting fat. And the rampant use of antibiotics in crowded conditions has led to the rise of a new breed of super-bugs that are sickening thousands and possibly millions.
You heard about the spinach infected with E. coli 157? There's no way to prove anything, but it's likely the infection came from animal waste. Agribusiness likes to say "It could come from over-flying birds or foxes running through the fields," but the most probable cause is the lakes of animal waste on nearby cattle farms. Remember the acid indigestion the cows get from corn? E. coli 157 doesn't live in the guts of normal, grass-fed cattle, but it thrives in the acid environment of corn-fed cows.
This is a growing problem – 199 people got sick during the spinach outbreak and three died, but that's a drop in the bucket compared to the 20,000 people a year who are infected with E. coli 157 ,and 200 who die. It's mostly the very young and the very old who are vulnerable; infection from E. coli 157 is the biggest cause of kidney failure in children.
The biggest irony: none of this makes any economic sense at all! Nobody would bother feeding corn to cattle if we weren't all paying billions of dollars in subsidies to make corn cheap. And consider this: Cornell's David Pimentel points out that growing that corn takes vast amounts of petroleum-based chemical fertilizer.
Because of this dependence on petroleum, Pimentel says, a typical steer will in effect consume 284 gallons of oil in his lifetime. Comments Michael Pollan,

"We have succeeded in industrializing the beef calf, transforming what was once a solar-powered ruminant into the very last thing we need: another fossil-fuel machine."
Giant agriculture distorts everything. In real agriculture, poop is fertilizer. But we use petroleum products to fertilize the corn, send the corn to giant cattle operations, which churn out massive lagoons of dammed-up poop. It should go back to fertilizer, but it's such an antibiotic and chemical-laced concoction that is nothing but a toxic waste-product.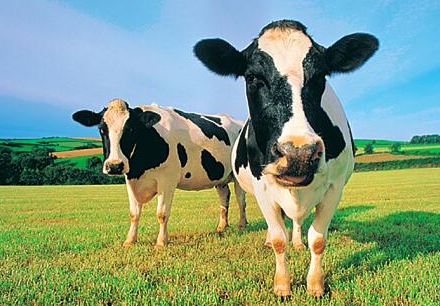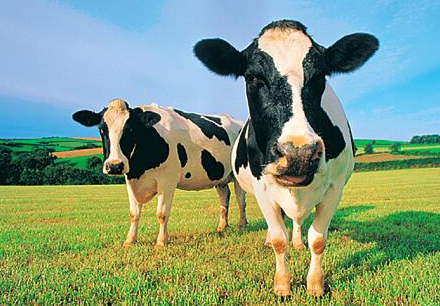 So now you know more of the facts, but what can you do to improve your diet and make a global difference as well? Vegetarians would like you to cut out beef completely, but that's not really necessary.
Cut back on beef (and meat). One or two days a week without meat is the equivalent of switching from a gas-powered sedan to a hybrid. (It'll also save you money, and is good for your heart).
When you do eat beef, go for free-range or grass-fed. Organic is best – it's more expensive, true, but remember, you just cut out a day or two of beef, so you can afford to eat better. Better for you, and better the planet – there's some evidence that grass-fed cows actually helps sequester carbon in the soil as they graze.
Watch your dairy intake, too. Most big dairy producers are as bad as the beef feedlots. Cut back on dairy, or switch to organic for lower impact.
Watch out for corn in your veggie products! Once you start reading ingredient labels, you'll be shocked and appalled to see how American processed food is loaded up with corn and corn derivatives (loaded with dairy derivatives, too!). It is a good idea to cut back on processed foods anyway, as they are loaded with all kinds of weird chemicals and additives (many of which are manufactured in bulk in China with minimal safety standards).