From disposable to reusable, many people are looking for a greener alternative to traditional dishes and flatware. There are a number of reasons individuals are making the switch to biodegradable cups and recycled plates – and there are several eco-friendly products available, from disposable plates made with nothing more than fallen leaves to elegant serving platters from recycled glass and much more.
Why Go Green at the Dinner Table?
Traditional plates and dinnerware raise a variety of concerns for both the environment and overall health. Studies have found that about 30% of the dishes used at America's dinner table contain dangerous levels of lead and cadmium. Another study claims that when the ceramic is properly fired, these toxins will most likely not leach into the food. In light of several different cases of lead poisoning linked to dinnerware, the National Safety Council advises:
"Avoid eating off any colorfully painted ceramic plates, and avoid drinking from any ceramic mugs unless you know they do not leach lead. This is particularly important if the pottery was made in Mexico or another Latin America country, or in Asia."
Plastic bottles, cups, and food containers can be even more harmful. Polycarbonate plastics – including most reusable bottles and containers – are made with a material called bisphenol-A. BPA has been linked to several types of cancer, type II diabetes, and can have ill effects on unborn children as well. Baby bottles, toddler cups, and plastic flatware also contain BPA. Heat from the dishwasher or the microwave allows small amounts of the chemical to surface, contaminating the foods and liquids inside.
Styrofoam (or polystyrene foam) products also contain known carcinogens, or cancer-causing materials, that can leach into food in a similar way as the plastics mentioned above. Styrofoam products are manufactured from petroleum, a nonrenewable resource, and are not biodegradable. In fact, the Great Pacific Garbage Patch is proof of the harm both Styrofoam and plastic containers cause.
[youtube]http://www.youtube.com/watch?v=uLrVCI4N67M[/youtube]
Green Alternatives for Your Dinnerware
Whether you're looking for biodegradable plates for your restaurant or just a safe option at home, there are a variety of choices currently available. Stainless steel is the best decision for water bottles and drinkware – when it comes to plates, bowls, and flatware, the possibilities are much more exciting.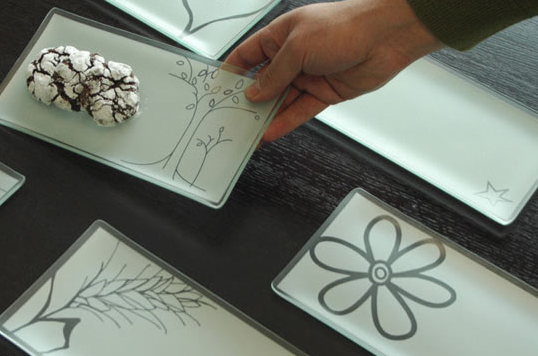 Made from post-industrial and pre-consumer recycled glass, these plates are dishwasher and microwave safe and feature 8 custom designs. What makes Plates with Purpose unique is that each design promotes awareness for a specific charity and a portion of the profits are donated to the noted charity depending on the style you choose. The flower pictured above benefits the Alzheimer's Association of Greater Pennsylvania, while the wheat plate below it raises funds for the Greater PA Community Food Bank.
These recycled plates are made from the old glass lenses that cover traffic lights. Recycled Glassworks offers a variety of green tableware, each rescuing some sort of glass otherwise destined for disposal. Old windows, doors, glass shelves, and tabletops now find their way to the dinner table with amazing plates, bowls, and platters and each piece is dishwasher safe. Recycled Glassworks also accepts old glass for recycling at their San Fransisco office.
Verterra plates are disposable dinnerware that are sturdy enough to be used several times before throwing them out. The dishes are all-natural, without any harmful chemicals or dyes, and are made of nothing but fallen leaves. Safe for the microwave, the oven, and the fridge, Verterra plates and bowls can also be washed by hand and are quite durable. Best of all, these green dishes are naturally biodegradable and will vanish without a trace within about 2 months after disposal.
[youtube]http://www.youtube.com/watch?v=i2033vdL_7A[/youtube]
Restaurant owners looking for a greener alternative to traditional take-out containers may find the Harvest Collection from the Hubert Company meets their needs. The plates, cups, and containers withstand temperatures up to 130° and are made of compostable and renewable resources like corn, wheat, and rice. Lids are also available for the biodegradable plates and cups, made of 20% post-consumer recycled materials and completely recyclable.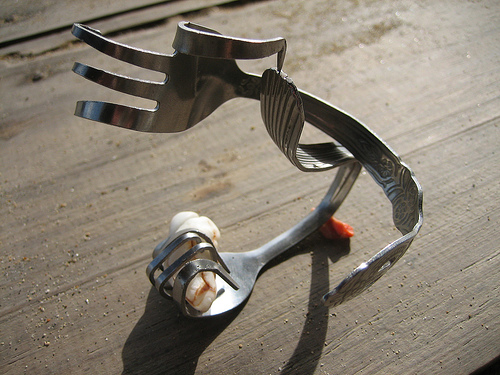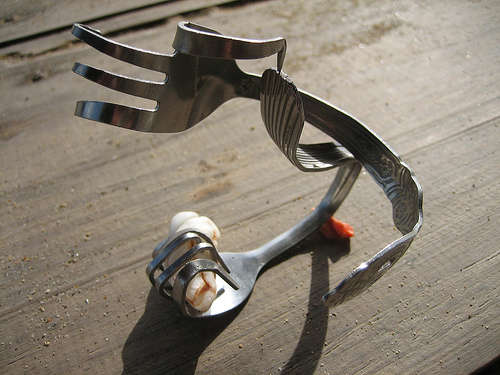 If eco-friendly flatware is what you're looking for, WheatWare offers a reusable as well as disposable option for forks, spoons, knives, and chopsticks. The Biomass-75 resin line eliminates 75% of the plastic used in conventional plasticware by using wheat biomass in its place. These utensils are dishwasher safe and withstand temperatures of more than 212°. The Cornware line from WheatWare contains no plastic at all. These disposable forks and spoons are biodegradable and made of 100% compostable materials.
Bamboo is another great option for green tableware. The disposable line of bamboo Verneerware from Bambu is approved by the FDA and biodegrades within 6 months of discarding. The company also offers bamboo cutting boards, festive lacquerware bowls, and all-natural cooking utensils – all carefully crafted from abundant and durable bamboo.
There are several other earth-friendly products available that eliminate both the environmental and health hazards associated with conventional dinnerware. Feel free to add to this list in the comments and share your own feedback on green tableware!