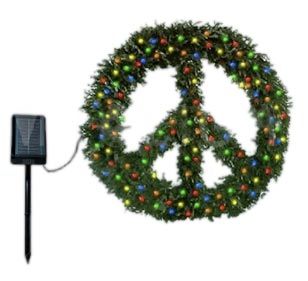 Have you finished your holiday shopping? There's just a few days left to pick up any last-minute gifts – and we have some green gadgets that you don't want to miss! The retro-reminiscent solar powered wreath above is available from Solar Santa for about $49.99.
Revisiting a simple scientific principle from grade school, the Citrus Clock keeps time by creating an electric current with zinc, copper, and of course lemons. The simple, but creative timepiece is designed by Anna Gram in France but could probably be made at home with a little imagination and a good plan!
You can never have too many lounge chairs when you enjoy spending time outside. The Terra Grass Chair from Lazybone is easy to assemble and said to be just as easy to grow. You can pick up this chia-chair for $88.38 – assemble, water, trim, and relax.
Lili is more than a webcam. The intriguing little octopus is made of renewable and recycled materials, including sand and cotton, with a 1.3 megapixel camera and built in microphone. The Lili webcam is available from United Pepper in the UK for about $60 and is manufactured in Vietnam under fair-trade conditions.
How many times have you been on the phone with a friend, only to have the call lost in mid-sentence due to a dead cell battery? The solar strap cell charger ($22.41) eliminates that problem and makes it easy to keep talking without losing mobility. Michael over at Groovy Green may find the solar strap on the dorkish side – but I would much rather dangle this eco-friendly charger than be confined to the length of my charger's cord!
If a solar charger isn't your idea of a great green gift, the Hymini is a baby wind turbine that goes wherever you go for an excellent mobile power source. The Hymini ($49.99) can mount on you bicycle handlebars or you can wear it on your arm to power up phones, cameras, or your iPod. The miniature windmill can also charge in a standard wall outlet or store power in the included batteries for more versatility.
Whether it's tea or cocoa you prefer, the Tefal Quick Cup saves time, money, and carbon – providing steaming hot water in just 3 seconds. It's simple to use and also serves as a convenient filter for a glass of pure, cold water, not to mention the great looking design. The Quick Cup saves up to 65% on energy usage and is available through Amazon UK for about 42 British pounds.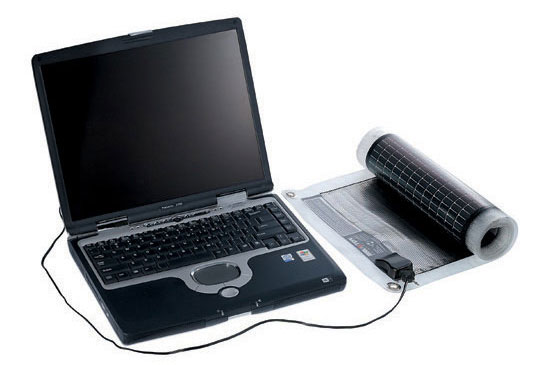 Waterproof, portable, and eco-friendly, this green gadget is ideal for the techie on the go. The SolarRoll goes everywhere your electronics can go to provide a quick, off-the-grid charge. Available from Brunton for $200 to $500, the SolarRoll charges digital cameras, mobile phones, laptops, and more.
Imagine a green MP3 player with a unique design that never needs a new set of batteries and doesn't need to be plugged in. The Rollon MP3 player is just that! Unfortunately, the Rollon is just a concept – at least for now – designed by Christian Karlsson for the 2008 Greener Gadgets Design Competition. The user rolls the end of the player to charge it up and can transfer tunes via mini-USB or Bluetooth.
The Baylis Eco Media Player is a green MP3 player that is currently on the market. Featuring a wind-up power source as well as USB plug in capabilities, the Baylis does it all – music, video, images, text, FM radio, a voice recorder, and even a flashlight. A $350 price tag, just 2 GB of storage, and limited quality make the Baylis a bit less appealing.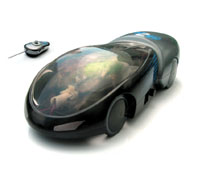 The little ecoists on your list (and the little at heart) will enjoy the H2go remote control car kit. Complete with hydrogen filling station and solar power plant, the H2go needs no batteries and features zero-emission operation. This green gadget is just one of the hydrogen powered RC cars available from Horizon and is comparably priced at $150.
Beach fanatics will love this solar beach tote from Reware. Made of biodegradable canvas – future models may feature sustainable hemp construction – the bag has plenty of room for all your beach supplies and will keep your electronics going all day. A built in gadget pocket will keep phones and iPods safe – price is $249.99.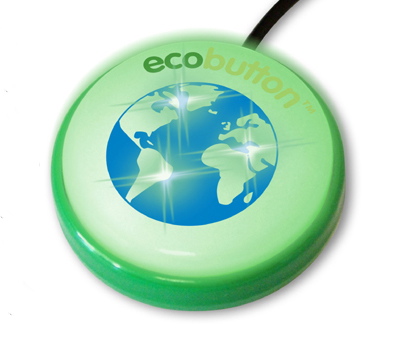 The Eco Button is perfect for the techies on your list that can't seem to remember to power down their computers when they're not in use. Available for $19.99, the Eco Button is a bright and friendly reminder to save energy – just click and your computer is in eco-mode.
A bit more attractive than the citrus clock above, the water-powered clock from Bedol is available in 4 colors for a mere $16. Simply fill with water, add a touch of table salt, and a little lemon juice for optimum performance and this innovative timepiece keeps perfect time without the need for batteries.
The latest green gadget for eco-friendly housewives, the SpinDryer holds a 10 pound laundry load and dries it all in less than 5 minutes. The unit is lightweight and will even absorb the chemicals and soaps left behind by standard washing machines. Available from Spin-X for about $600.
The latest take on eco-friendly calculators, this water powered calculator has a fun design and operates on a tiny fuel cell rather than batteries. Available for $19.99, just fill it with water and start adding.
Everyone needs a good flashlight. Why not go green with a solar powered flashlight from SunNight Solar. Starting at $39, the BoGo light provides 4 to 6 hours of illumination after a full solar charge of 8 hours – and SunNight will donate a flashlight for each light sold!
Chemical-free cleaning doesn't require a collection of products with the Zadro nano UV wand.  This $160 green gadget sterilizes any surface in just 10 seconds and eliminates harmful bacteria, germs, dust mites, and even lice and flea eggs – talk about easy cleaning!