With everyone else on the planet jumping on the green bandwagon, it was inevitable that the purveyors of our most popular mind-altering substance have jumped on board. We'll take you on a tour of some of the best…
Guess where this drink comes from? If you're thinking island breezes and big, big waves… you'd be right. It's distilled in Hawaii by a couple of surfer dudes who really know their drinks. And when they say ocean, they mean ocean: the water they use is pumped from a pristine sea-bed aquifer that is both contaminant-free, and contains an out-of-the-ordinary natural mineral content. Ocean Vodka is USDA certified organic, from GMO-free organic rye and corn, and run through their cool new four-column distillation process. And we just like the idea of surf vodka.
Rain Vodka
Rain, rain… don't you dare go away. This precipitate spirit is handmade in small batches at a Buffalo Trace, Colorado distillery. Unusually, it's made from 100% organic white corn, a cold-water sweet-mash fermentation, and a seven-distillation process. The result: a clean, smooth drink that's been winning accolades and awards, including gold medals at this year's World Spirits Championship. They also offer some creatively-flavored vodkas, including Cucumber Lime, Honey Mango Melon, Red Grape Hibiscus and Lavender Lemonade.


Whisky is tricky – with casking times of 9 years and longer, you have to do a lot of advance planning to get a new product to market. Some companies are in that process, but so far only one Benromach has a widely-available, certified-organic single malt whisky. Even their casks are virgin oak from environmentally managed forests! This is what we call a "young spirit", and will probably be better as it matures some, but even so it picked up a Supreme Award at the Scottish Food and Drinks Excellence Awards, 2007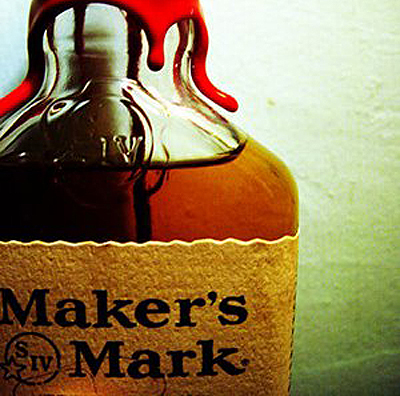 There's more than one way to be planet-friendly. Although they haven't gone organic (there may not be enough organic grain available to meet their production needs), their Kentucky plant has been fully greened-up with the help of Ecovation
Taking a big step beyond basic recycling and wastewater treatment, they have an on-site anaerobic digestion facility that turns waste into bio-gas, offsetting 30 percent of their natural gas use (you'd think everyone would do this, but you'd be wrong). So now they're not just one of America's best bourbons; they're a leading light in the movement for sustainable distilling.
The name isn't exactly auspicious – how often have you woken up after too many gin & tonics to feel like you're at death's door? But these folks, from Washington Island, Wisconsin, not only source locally, they name locally, too; Death's Door is the name of the straight that separates them from the mainland.  Apparently, they live sustainablyl at death's door – with organic Great Lakes wheat and wildcrafted juniper berries right from the island. They make a pretty decent vodka, too.
That's French for "Water of Life", but at 18% alcohol these beverages aren't as strong as the similarly named (in different languages) akvavit or whisky. Peak Spirits (which also make organic gin, vodka, and grappa – you can see the full product line in the picture) use locally-grown Colorado peaches, pears, apples and cherries, slowly fermented in chilled stainless tanks. The spirit is distilled in very small batches in a a copper-pot still. All products are 100% USDA-certified organic.
Ah, sake… whether cold or hot, this Japanese rice wine delights the palate and befuddles the senses. Momokawa does their Junmai Ginjo sakés (best served cold) up green, with USDA organic certification – the first and so far only sakés  so blessed. Every step is certified, from the rice to the yeast to the milling and brewing equipment. The bottles even include a recycled screwcap and tree-free labeling. The taste is exceptional, as well, smooth and delightful.

Unless you've been living (and drinking) under a rock, you've probably had a mojito by now. But you've probably never had a caipirinha, Brazil's national drink, made with cachaça. This stuff – made from fermented sugar cane but lighter and more delicate than rum – is the third most popular drink on the planet, but hasn't even been available in the U.S. until recently. Now you can get an earth-friendly version, made with organic sugar cane, processed in alembique copper potstills, then finished in XO Cognac Casks.
What's better than organic? Organic + superfood! Acai is an Amazon berry that contains 57% more antioxidants than blueberries and 30 times the heart-healthy anthocyanins of red wine; paired with vitamin C-rich acerola cherries and prickly-pear juice, this is not just a drink, it's a hangover-prevention treatment in a bottle. Talk about pre-emptive strikes…Try it with tonic and lime, or as a martini or margarita base.
Limoncello is a popular sweet liquor, but let's face it, it's not that different from drinking sugar-laden, artificially-flavored and -colored lemon pudding. Bleh! Go with this healthy, green alternative from LOFT. "LOFT Organic Liqueurs was created by Lisa Averbuch to save people from the synthesized flavor and bright neon color of your average apple martini," says the website, and they have achieved their goal in spades, becoming the first certified-organic liqueur in the U.S. by eschewing sythetic fertilizers,  artificial colorings, or nasty processing with ionizing radiation. They sweeten with organic agave nectar instead of sugar, source from biodynamic farms where possible, and use green packaging. It's even certified EarthKosher. If you dont feel like lemongrass, try the lavender or the spicy ginger.
You can't get much greener than absinthe, and Bohemia-based Sebor's is the greenest of the bunch, using organic herbs, including the traditional wormwood (artemisia absinthium). And while most modern absinthes use artificial colors to achieve the distinctive green color, Sebor does it old-school, with chlorophyll. The grain alcohol spirit isn't organic, unfortunately, but the overall experience is pretty much earth-friendly (if not head-friendly – try starting your drinking with a shot of Veev to avoid the traditional absinthe hangover).
Wines
Fine winemaking is basically about figureing out what works, and then doing it over and over again for a couple of centuries. That's why it takes so long for new wine regions to start producing spectacular wines, and the same thing applies to organics. Even in established vineyards, going organic means change – and it takes a few seasons to figure out which changes work well, and which don't work well at all.
So while organic wines have gotten – to put it gently – a mediocre reputation, we're moving out of the experimentation phase and into the perfection phase. There are literally thousands of organic wines on the market now, and many of them are getting very, very good.
The Coturri winery has been producing certified organic wines since 1993; their 2005 zinfandel just hit #4 on the Wine Report's 2009 list of top organic wines, a formidable achievement as this $32 bottle parachuted into a list dominated by $100+ vintages. Grown in very small batches without irrigation, the flavor has been described as "astounding". "This wine has black fruit in the nose, a very sweet mid-palate and good balancing acidity in the finish." (Note – within three days of the Wine Report list hitting the news, Coturri sold out of this vintage. Check out their other years, and other wines – everything these guys put out is excellent.)
Another Northern California offering, Frey Vineyards has a wide selection of organic wines, but this is probably the best, with its big jammy flavors and refined tannins. It was awarded a GOLD MEDAL in the Critics Challenge at the San Diego International Wine Competition, and has a fistful of silver and bronzes from international competitions.
….Is it worth it to go organic?
These drinks will cost you a little more (or a lot!), leading some to question whether organic realy makes a difference when it comes to hard alcohol.
There is one school of thought that says, "Look, the distillation process removes all impurities and leaves nothing but basic spirit; It'll strip out all pesticides and chemical fertilizers, so way pay more?"
Anyone who tells you that is neither a drinker nor a chemist, and they probably don't know much about alcoholic beverages or organic living, either.
In a nutshell:
a) Cheap booze gives you hangovers while premium stuff does not – ever wonder why?;
b) lots of extraneous stuff is carried through the distillation process;
c) producers use the finest ingredients and fine-tune their production facilities because it affects the taste of the end product; and
d) all that aside, organic farming is better for the environment and the planet, regardless.
Sean Evans of  the New York Daily News did a scientific experiment, knocking back 11 shots of pure organics one night that left him feeling just peachy the next morning, while  a duplicate bender on the non-organic counterparts left him bleary and hung-over. This is not subjective, folks, this is science!