Airplanes and jets have become part of everyday life since the first flight more than a century ago.  Solar aviation, on the other hand, is finally nearing perfection after decades of exploration.  The first functional solar cells were introduced in 1954 – 2 decades later, in 1974, the first solar powered airplane made its virgin flight.  The small-scale model was the first of many attempts to power aircraft with the sun…
Sunrise I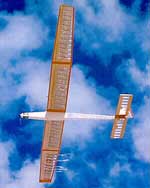 Developed by RJ Boucher of Astro Flight in California, Sunrise I made the first solar-powered flight on Nov. 4, 1974.  The model plane, with a wingspan of nearly 10m, weighed 12.25 and flew for 20 minutes.  Sunrise I made other flights, lasting 3 to 4 hours, before becoming severely damaged during a windstorm later that winter.
Sunrise II
Astro Flight didn't give up on the potential of solar aviation.  Sunrise II made its first flight in September of the following year, 1975.  This time, more efficient solar cells were used – boosting the power output by 150 watts – and the weight of the plane was decreased by more than 2 kg.  Unfortunately, Sunrise II also met an untimely ending after damage due to a control system failure.
Solaris
At the same time, but across the world in Europe, Helmut Bruss and Fred Militky were working on their own solar airplane models.  Bruss's aircraft was not successful; the solar cells continued to overheat, but Militky's design flew for 150 seconds between 3 different test flights in the summer of 1976.
Solar One
Not long after the first unmanned solar planes hit the air, attempts were made to create a manned aircraft operating on solar power.  Fred To and David Williams were the first to successfully fly a piloted solar airplane, taking off in Hampshire in December, 1978.  The plane used Ni-cd batteries to store energy and was a costly project to complete.
Solar Riser
In April, 1979, Larry Mauro launched his solar powered aircraft, the Solar Riser, in California.  The Solar Riser was based on the design of Mauro's Easy Riser glider and could remain powered about 5 minutes after a 3 hour charge – just enough time to reach a great altitude for gliding.  This plane also used Ni-cd batteries.
Gossamer Penguin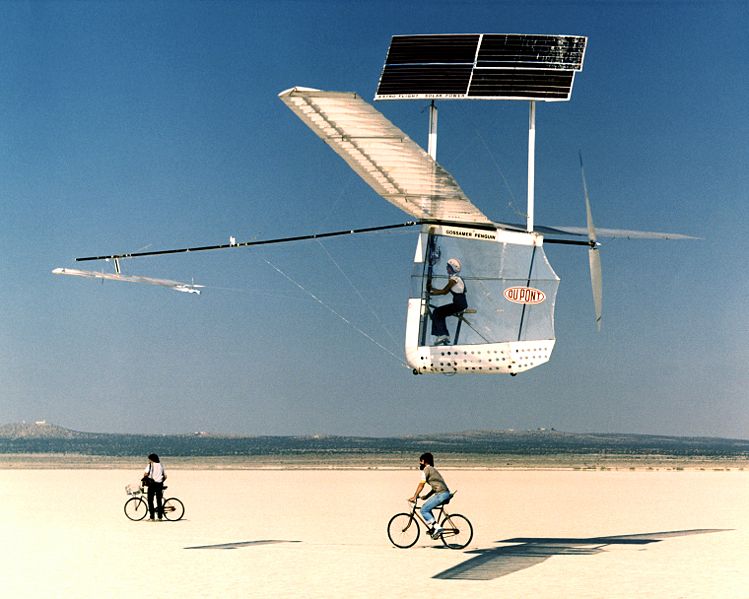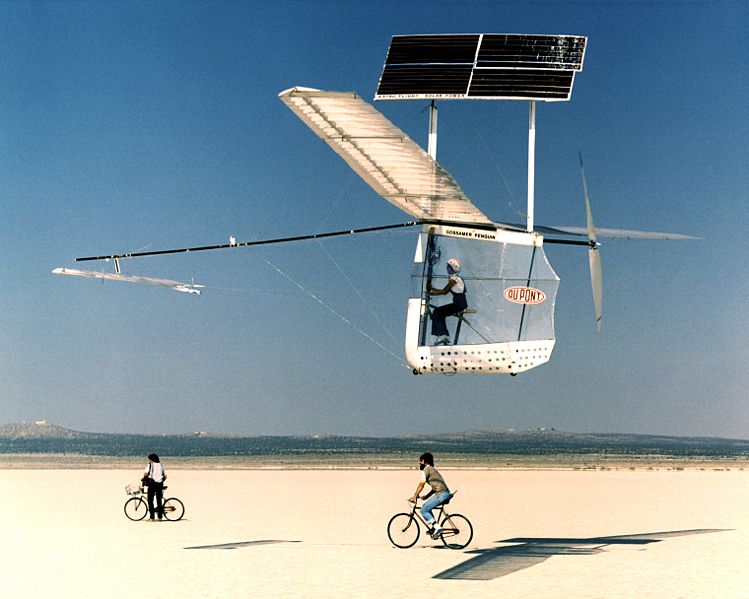 The Gossamer Penguin was the first aircraft to fly on purely solar power, using the same cells from the original Sunrise and Sunrise II models.  The plane successfully flew nearly 2 miles in August, 1980 and was based on the Dupont-sponsored Gossamer Albatross – the first human powered aircraft to cross the English Channel.  The Penguin's downfall was its inability to fly at high altitudes.  It also required an extremely light pilot to stay in the air.
Solar Challenger
An updated version of the Penguin, the Solar Challenger was also sponsored by Dupont and designed by MacCready but with much more powerful solar cells.  The Challenger made its flight from Paris to England in less than 5.5 hours on July 7, 1981.
Solair I
Also during the early 1980's, Solair I was designed by German Gunter Rother based on a modified standard airplane design.  A battery was integrated into the design to boost climbing power, but the plane flew a total of 5 hours and 41 minutes on solar power alone.
Sunseeker
Eric Raymond began plans for his solar airplane, Sunseeker, in 1986 and the aircraft was first tested as a solar glider in 1989.  In 1990, Sunseeker flew across the US but used battery power to make its ascent before flying on solar energy.  After several modifications, new wings, and a stronger motor, Sunseeker II is now the only manned solar aircraft in continuous operation and is currently preparing for flights across Europe.
Pathfinder Plus
NASA's Pathfinder, designed by the same company that created the Penguin and Challenger above, was originally built in the early 1980's but sat in storage before a series of test flights in 1993 and 1994.  The Pathfinder set a new altitude record for solar aviation in 1995, reaching over 50,000 feet.  In 1998, longer wings were added to the unmanned solar plane and the aircraft was renamed the Pathfinder Plus.  Pathfinder Plus beat previous altitude records when it reached nearly 97,000 feet in 2001.
Solair 2
Solair 2 is the second version of Gunter Rolchet's solar plane of the early 1980's.  Solair 2 used Sanyo battery cells and 1100 watts of solar energy to maintain an optimum flight speed of about 50 km/hour.  The 6m long airplane was built in 1996, but wasn't tested until 1998.
Helios
Another NASA prototype, the unmanned Helios solar plane had big plans for the future – including a nonstop 40-hour endurance test flight.  Unfortunately, the aircraft crashed during a series of practice runs in 2003.  The plane was destroyed, along with the experimental fuel cell designed to keep the Helios flying through the nights.  Two years before the accident, the Helios broke the altitude record for solar aviation by reaching 96,863 feet.
Zephyr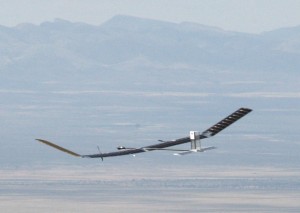 Designed by UK based QinetiQ, the amazing solar powered Zephyr continues to break solar aviation records.  In August, 2008, the unmanned aircraft flew for 3.5 days straight – 83 hours and 37 minutes – beating its own record of 54 hours from the previous year.  The high-endurance solar plane is lightweight enough to be launched by hand but is expected to be strong enough to carry up to 1000 lbs during flight.
Solar Impulse
Bertrand Piccard's solar aircraft design – the Solar Impulse – aims to be the first solar powered plane to fly around the world.  Currently, the Solar Impulse can only support a single pilot but a 2-seat version of the plane is planned when battery technology will allow a lighter design.  Test flights are proposed for this year, with plans for a worldwide trip consisting of 5 legs to accommodate the physical limitations of the pilots.
Sunship
Solar Flight operator and designer of the solar powered Sunseeker pictured above, Eric Raymond, has his own plans for a manned solar aircraft to circumnavigate the globe.  The Sunship is an airship, similar to the Zeppelin design, and is proposed to be as small and lightweight as possible but still with the ability to cross the Atlantic and Pacific Oceans.  The airship will be designed to hold up to 3 passengers at low altitudes, a single pilot at higher limits.  As of now, the Sunship is still a concept for solar aviation's future.