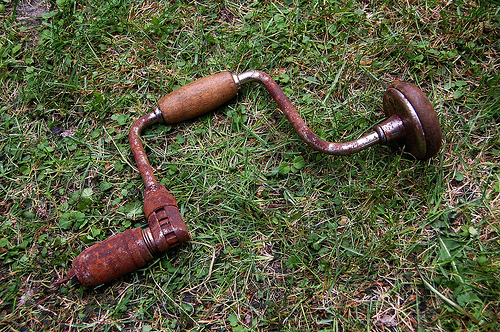 Contemplating the simplicity of antique drills and hand-cranked turntables, we can gain inspiration for powering our everyday lives from old-world inventions spurred by the desire for efficiency. Today, many companies are exploring human-powered options for common devices. And while people-powered home heating and cooling is likely a long way off, many other simple daily tasks can be energized with a little human exertion.
Human-powered gadgets
Get peddling and in no time you'll have mixed up your morning smoothie or your party drinks. The Juice Peddler allows you to do the real work or blending your beverages. Mount the Juice Peddler to most stationary and regular bicycles for between $249-399.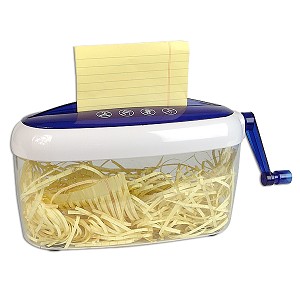 Requiring nothing more than your discarded paper and an opposable thumb, this Think Tank Technology Hand Crank Paper Shredder cuts your private correspondence into 3 mm shreds with the power of your hand-cranked energy. Can accommodate regular 8.5" x 11" paper.
[youtube]http://www.youtube.com/watch?v=m_HNHGLlavE[/youtube]
Play a little game of soccer while you wait for your Play & Freeze Ice Cream Maker to finish chilling your creamy delight. Just add ice, rock salt, ice cream mix (cream vanilla, sugar, and your favorite flavors), and some shakes, kicks, or rolls. Takes about 10 minutes for this people-made ice cream to be ready to eat.
We all walk a fair distance every day. According to health experts, we're supposed to log 10,000 steps on a daily basis to maintain optimum health. Well, whether we're as diligent as that, or just barely making it to 2,000, we may soon be able to harvest our walking energy. The Biomechanical Energy Harvester developed by kinesiologist Max Donelan at Simon Fraser University aims to capture the energy of walking using a 3.5-lb. device strapped to the walker's knee. Said to not hamper the walker's natural stride, this little device should be able to power between two and five cell phones, laptops, iPods, and more.
Sony's got a bevy of hand-cranked devices in the works. Options (from left to right) include the Pull N' Play stereo headphones, the Push Power Play photo and video viewer, the Crank N' Capture video camera, the Spin N' Snap digital camera, and the Juice Box solar battery.

Have you misplaced your cell phone charger? Looking for a second device to power your mobile phone on the go? The SideWinder is a great solution, especially since it's lightweight (2.5 ounces) and comes in a small package. With just 2 minutes of cranking, you'll get 6 minutes of talk time. Comes with cable and adaptors for Nokia, Audiovox, Kyocera, Motorola, Sony/Ericsson, and Samsung.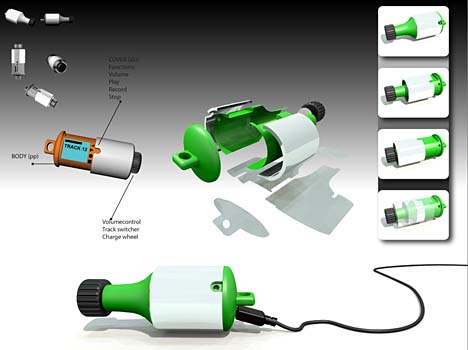 If you're a fidgeter, this is the perfect gadget for you. Simply roll the RollOn along any surface and you'll charge it up. Inspired by bicycles, this device functions like any other mp3 player, but it gives you battery-free listening enjoyment.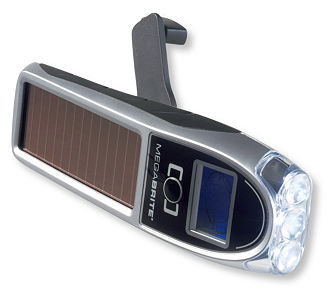 Having a reliable flashlight in your home, car emergency kit, or while you're camping is a necessity, but when it goes unused for months on end, you risk finding the batteries dead and useless. Not with a hand-cranked or solar-powered flashlight. Using either the power or the sun or human-powered cranking, you'll have a bright light in any situation.
Could you pack more functionality into a single device? The handy wind-up radio meets flashlight meets portable charger is another great option for emergencies at home or while out and about, especially if you're looking for a clean-powered solution to your survival needs. This unit has an AM/FM radio, an LED light system with emergency flash, a siren, cell phone charger, and can even give you National Oceanic and Atmospheric Administration (NOAA) weather reports.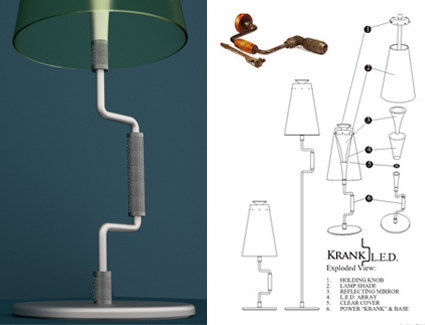 With a 1:40-60 crank-time to light-time ratio (in minutes), you don't have to labor long to brighten your work desk or favorite reading corner. Using an LED bulb powered by a magnet and copper power design, the old-style Krank LED Fixture combines old-world with conscious illumination.
Launched by the MIT Lab in 2005, the One Laptop Per Child (OLPC) program has delivered over 500,000 $100 laptops to over 20 developing countries around the world. They require very little power, and can be charged with solar collectors, hand cranks, and even yo-yos. While they're not for sale in the traditional sense, every year or so they have a gift-one-get-one campaign that allows you to make a donation to send one laptop overseas and keep one for yourself.
While not exactly a gadget, we couldn't resist leaving you with this "power by the people" inspiration. The Revolution Door by Fluxxlab has taken the idea of human-energized technology and applied it to the revolving door. By harnessing human energy for use in lighting and other electrically-powered devices, this door will even communicate with each person as they pass through the door to let them know their contribution to the energy cycle. Also in the works: The Powerslide which turns ordinary actions like opening a sliding closet door or window into power-generating ones.
People-propelled vehicles and other oddities
Even if you don't live far from the grocery store, carting heavy tins and boxes home after a long day of work can be a trial for even the fittest humans. So why not lay your hands on a grocery-getter on wheels? The Cart Bike gives you a bit of exercise as you go to and fro between home and food mart with carrying capacity well beyond the traditional bike basket. Who knows whether you'd be permitted to bring the contraption into the actual store, but even if you have to lock it up outside, it'd seriously cut your food procurement emissions.
If you're going to be in Toronto in the near future, consider hiring an EcoCab for any shorthaul trips around the downtown core. These pedal-powered taxis offer travelers emissions-free and free-of-charge transportation (they're funded entirely by corporate sponsors).
With a "Pedal Yourself Healthy" motto, Velomobile aims to spread the word about pedal vehicles and regular exercise for everyday transportation. Their fully-enclosed tadpole vehicles function like a recumbent tricycle, but with added features like protection from the elements and an "accessory cockpit" for under $4,000 ($6,625 fully assembled).
[googlevideo]http://video.google.ca/videoplay?docid=369463415941480101&ei=RMOeSfatLY6cqAKThO3XDw&q=humancar&hl=en[/googlevideo]
Need something that will transport your whole family fuel-free? Then check out the HumanCar. Using "body steering," four people rowing the car will get the vehicle going about as fast as a conventional bicycle. Meant as a neghborhood vehicle (meets state requirements for safety on short, neighborhood trips), this vehicle even has electric assist motors and regenerative braking for hillier locales.