Water…it's pure, it's natural, and it's abundant – right?
Well, not exactly. While nearly 75% of the world is covered with water, only about 3% is fit for human consumption – and two-thirds of that is found in glaciers and icecaps. That leaves just 1% of the planet's water for our own use. Yes, water is a rare, valuable, and necessary resource — but is it really worth $20 a bottle?
Ok – the $20 bottle of water from Charity: Water is worth the price, only because the $19 and change profit from the bottled spring water helps supply those who don't have a clean source of drinking water with another option. Is there any other bottled water really worth paying to drink?
Green Water
Bottling companies, especially those 'premier' water bottlers, hope that you'll continue to believe that their spring water, mineral water, or enhanced tap water is at least 1000 times better than the free or nearly-free water you can get yourself…but is sustainable, all-natural, and organic water just a bunch of greenwash?
Park City Icewater Company packages 20,000 year old glacier water, directly piped from the underground source into their bottling facility. "This incredible isolated water source has been shielded and protected from modern man for centuries" – at least until this company came along, anyway. The pure, natural water from Park City also comes in eco-friendly packaging – requiring 75% less energy to produce and 96% less space in the landfill.
The bottle is definitely better than our traditional water bottles, but still not as green as a reusable. The question is – is this rare, untouched water source any more 'natural' or 'sustainable' than filtered tap water? And, after 20,000 years, why are we the lucky ones who get to drink it all?
"Purified for 5000 years." Malmberg Original Water is bottled in Sweden, extracted from an ancient underground water source. The not-so-enviro glass bottles are said to contain the oldest water in Sweden – never contaminated by modern pollution. Naturally enriched with vitamins and minerals, this so-called 'organic water' actually comes from a source that is similar to the source of average Swedish tap water according to TreeHugger, and the well is rumored to be located near the pure water well used to produce Absolut Vodka. While this time-forgotten water may taste great, is it really any more natural or organic than water from a country spring after filtering?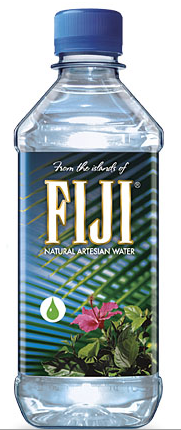 "Every drop is green." Fiji Water claims to be the purest and greenest natural water available. According to their marketing, their water is untouched by man until you open the bottle – "No other natural waters can make that statement." Unfortunately, it seems to be the statement made by both of the above 'natural water' bottlers. Besides delivering organic water, what else is Fiji doing for the planet? They aim to reduce their PET packaging by 20% by next year.
The first flavored sparkling water to be certified organic by the USDA, Totally Organica is still fairly new from the looks of it (appears to have been introduced in summer, 2008) and seems to only be available online as of now. The 'organic water' also comes from an untouched spring, like the brands above, and is flavored with "organic essences" – not sugar or artificial flavors.
O water, mistakenly assumed to be organic water thanks to Safeway, may actually be the greenest bottled water on this list. O Water doesn't claim to be organic; their website never states that their water is the purest available; they simply use natural ingredients and skip the additives and artificial flavors – still, this 'natural water' is nothing more than heavily filtered tap or spring water…with some extra plastic to clutter the landscape when its gone.