"One man's trash is another woman's treasure" – especially when that trash is made into jewelry! Recycled jewelry is popping up everywhere, and the materials used to create it is just as amazing as the jewelry itself. From industrial trash thrown away in Chicago to bicycle inner tubes in Holland, recycled jewelry is eco-chic, handmade, and planet-friendly
Yesterday's News, Today's Jewelry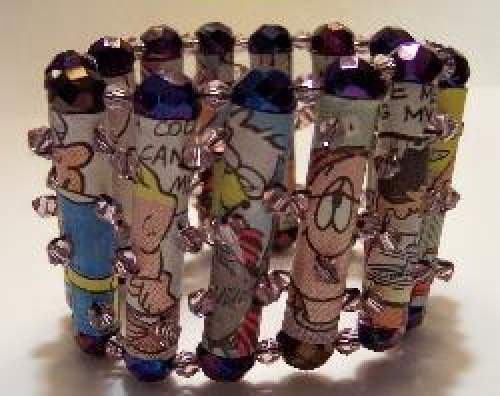 Recycled newspaper comics are the start of this intriguing bracelet by NewspaperJewelry. The paper is sealed with a nontoxic, water-resistant coating and paired with Swarovski crystal and faceted glass. Holly Anne Mitchell creates an assortment of newspaper jewelry from old coupons, losing lottery tickets, stock listings, and sweetener packets.
Sprains and Fractures = New Earrings
Rescued computer components, remnant glass from windows and doors, and even abandoned x-rays are common materials for UpcycledJewelry designs. All materials are saved from the landfill by the designer and typically come from foreclosed homes that require cleanup.
New Use for an Old Board
The husband and wife team behind 2ReVert handcraft recycled jewelry from skateboards that are no longer travel-worthy. Each piece is unique and carries an unknown story of where it's been and what it's seen. Cuff links, skateboard coasters, and belt buckles are also part of the 2ReVert line.
Industrial Waste-Not
Also available in black and white, these eco-chic earrings are handmade by Wired Jewelry. This piece is made from the rubber labels of liquor bottles, collected from a local club, and fastened with metal scraps from a nearby recycling facility. Wire, rubber, transistors, and other commercial junk are picked up from various businesses in Chicago before becoming the sole materials for Wired's recycled jewelry.
Need a Pencil?
Buttons, feathers, fabric scraps, and photo negatives make up many of tomatedpingles's recycled jewelry. This particular pair of earrings is obviously made from the top and bottom of a pencil – the cool thing is, both pieces work so you never have to worry about having a pencil (just be careful not to break the lead)!
What do You do with an Old Bike Tire?
Sasja Saptenno of Holland makes recycled jewelry with them! Saptenno saves used bike tires from a life in the landfill, picking the tubes up from friends, family, and local shops, then creates unique necklaces and bracelets. She also crafts colorful, textured shawls from discarded plastic bottles.
Recycled Watch Rings
dustDesignCo has found a creative way to give new life to vintage watches by handcrafting them into one-of-a-kind recycled jewelry. The Steampunk collection features 55 unique pieces, all made from the insides of classic timepieces. dustDesignCo also makes jewelry from lost LA transit tokens, vintage spirit labels, antique car parts, and other cool junk destined for the dirt.
Recycled Music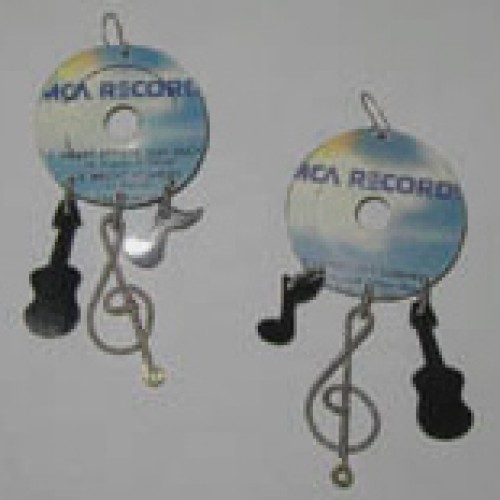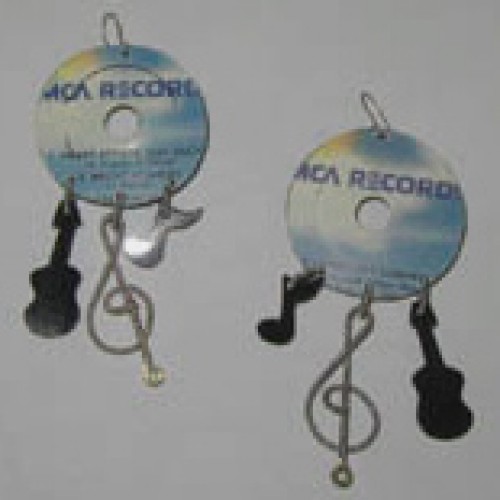 This intriguing design was an entry into the "Don't Trash That Art!" contest sponsored by the Baton Rouge recycling office. The earrings salvage old vinyl records as well as used guitar strings. Materials used in other entries include lipstick lids, candy wrappers, bottle caps, fishing lure, and more.
Jewelry to Eat On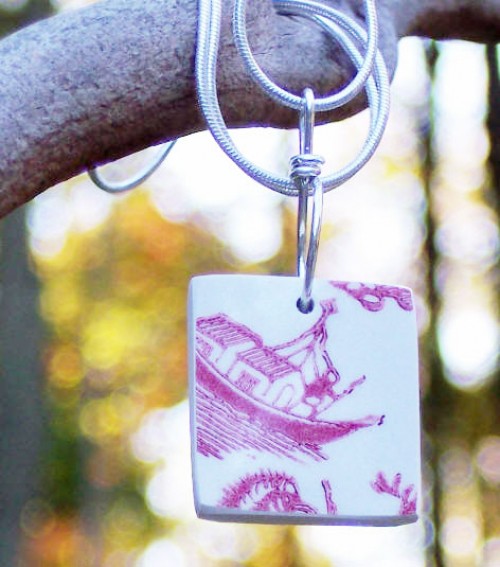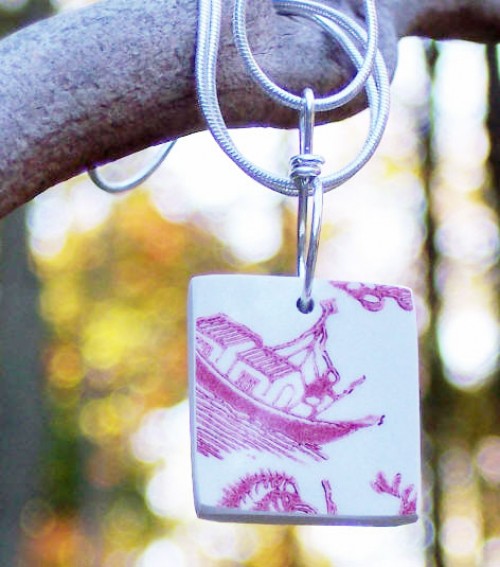 Blue willow China was a fine dining staple in homes everywhere throughout the 20th century. This piece comes from a pink willow dish originally manufactured in the 1960's. The Olive Barn features recycled glass jewelry, handmade by Laura Bergman. Each piece of glass is a rescued fragment from old dumping sites in Pennsylvania – pieces that are typically left behind by vintage collectors. Depression glass, antique Noxema bottles, and the above willow dishes are a few of her choice materials.
Retired Strings Transformed to Jewelry
Another innovative design based on music, Strings…and a Dare creator Xavier Symown began her recycled jewelry career as a tribute to a musical colleague after his death. She brings new purpose to worn out instrument strings by crafting them into necklaces, bracelets, rings, and more. Xavier works with piano, guitar, and bass stings, as well as violin, viola, and cello strings.
Are you ready to make your own?
Check out Planet Green – How to Make Your Own Recycled Jewelry.