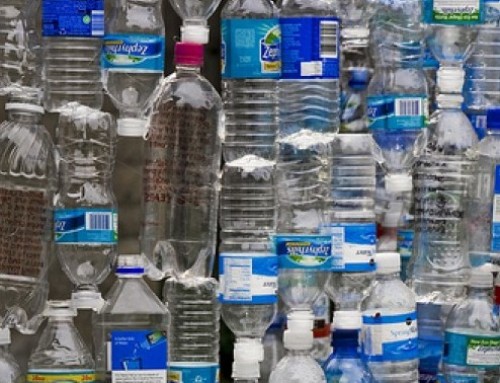 Image by fhemerick
Plastic bottles are produced, consumed, and trashed each and every day.  Of the 28 billion bottles of water bought by Americans each year, more than 22 billion sit in landfills.  Only 13% of our plastic bottles are recycled.  
Those statistics on plastic bottles don't include the ones that have been rescued for amazing reuse projects!  We've discovered more than 340,000 plastic bottles in the creations below – from chic plastic vests to floating islands, the possibilities for reusing bottles are endless …
Richie Sowa's Spiral Island floats off the coast of Mexico atop 250,000 plastic bottles.  The plastic island is completely self-sustaining and is classified as a ship with the freedom to float wherever Sowa would like to go.  
If you prefer your residence to feature a bit more land and a little less water, this house is made of 8,000 plastic bottles and is one of many bottle homes built by Honduras-based Eco-Tec.  The bottles are filled with mud and bound together with a cement mixture, offering low cost, long lasting construction.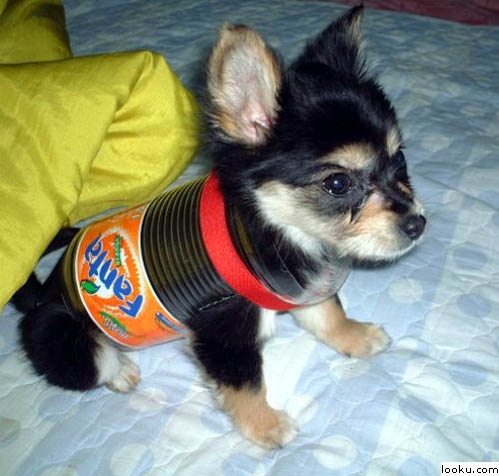 Is anyone else saying "poor doggie"?  While it may not be considered extraordinary, this plastic doggie armor is definitely a bizarre reuse of a plastic bottle.  
This plastic bottle apparel looks a little more comfortable than the doggie sweater above.  Designed by Saleyla, the vest is made of 16 plastic bottles.  The designer decorated each plastic piece with her slogan, but the possibilities are endless – artwork, logos, etc.
A couple of the leftover bottom pieces from the recycled plastic bottle project above – and a zipper – are all you need  to make a one-of-a-kind coin purse.  The zipper is sewn in using a needle and thread.  
[metacafe]http://www.metacafe.com/watch/1211208/a_solar_powered_toy_car_handmade[/metacafe]
A Japanese engineer creates cars with his plastic bottles.  For now, the solar-powered plastic racer is only available in miniature size – but with advancements in plastic recycling, we may very well see cars made of plastic bottles in the near future.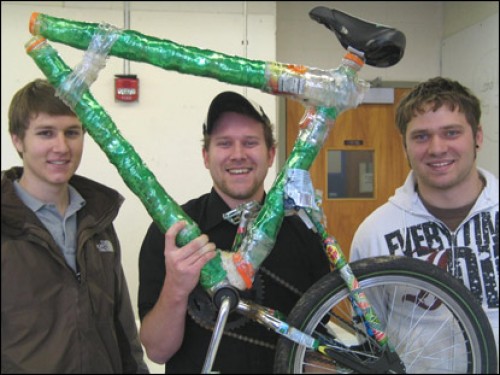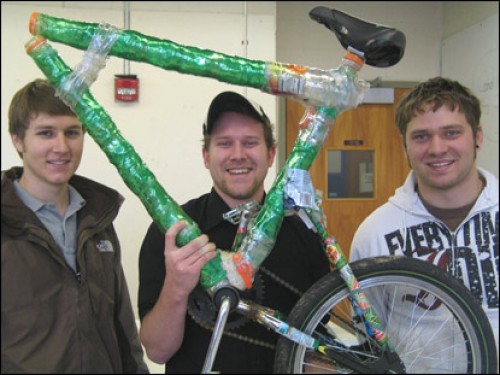 Image by Monte Mitchell
This team of 4 Appalachian University students is already brainstorming the possibilities of a plastic bottle car after winning first place in the Juicy Ideas competition sponsored late last year by Google.  Their winning entry was a plastic bottle bike that worked – at least for a little while until the front end snapped off.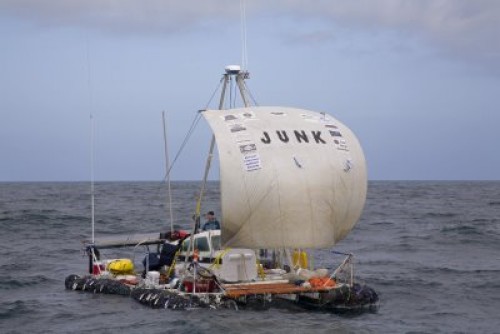 The Junk Raft recently voyaged from California to Hawaii to raise awareness about the amount of plastic polluting our oceans.  Six pontoons, filled with 15,000 plastic bottles, sit below salvaged sailboat masts and the recycled Cessna cabin.  After 3 months afloat, the plastic bottles beneath the raft were still in excellent condition – more than can be said for the shriveled stomach of the fish caught on the trip, sporting "14 fragments of plastic in it's stomach".  
These plastic bottle curtains adorned the Jasmil Olympic Stadium in Seoul during the first-time Designbloom Mart in October, 2008.   The 'beads' were created from a variety of plastics, including soda bottles, detergent containers, and plastic egg trays.
Tomislav Radovanovic, a math professor in Serbia, built this house with 13,500 plastic bottles and a little cement.  The foundation, support pillars, and roof are cement – the rest of the construction is nothing but rescued plastic bottles.