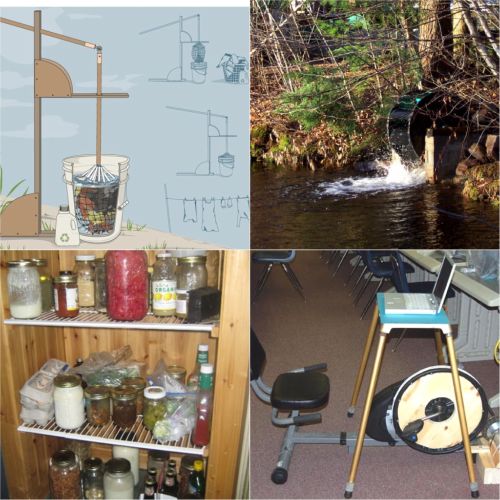 Small-scale renewable energy is a must for a sustainable home – but converting your home to clean energy options can carry a huge initial price tag.  We've scoured the web for some of the most innovative examples of homemade energy solutions to compile a collective list of DIY projects to make your home greener and more energy efficient without costing you a fortune.  From solar water heaters and gadget chargers to homemade super-efficient refrigerators, you'll find links (with instructions) to some of the best projects you can make at home…
Homemade Energy-Save Fridge
The 'Ambient Air Fridge' isn't quite a year-round green appliance but when things cool down in the winter, this homemade fridge will definitely shave a few dollars off the electric bill!  The insulated wood box fits snugly in an out-of-the-way doorway and even controls the temperature with an inexpensive thermostat and a couple of computer fans.  
DIY Electric Lawn Mower
A small DC motor, two 12-volt batteries, a circuit breaker, and wiring can transform your polluting, fossil-fuel dependent lawn mower into a clean, green, grass mowing machine!   The first version of Lee's mower required an electric battery charger.  After a few more updates, Lee has created a completely eco-friendly solar powered electric mower.
Make Your Own Wind Turbine
It may not generate enough power to charge up your electric mower, but this mini-windmill from GotWind.org is a great way to operate small power tools or turn on your garden lights.  DIY wind turbine projects are a bit more complicated than some of the other renewable energy options available, but are well worth the effort when it comes to off-grid living.  There are an assortment of plans available for more powerful wind generators, but do some research before buying.  You'll find a good selection of reasonably priced DIY wind power projects at GotWind.  
Low Cost Solar Water Heater
Imagine the savings on your electric bill – and the environmental benefits – if you no longer depended on fossil fuels to warm your water!  This DIY solar water heater is inexpensive to build and provides scalding hot water in just a couple hours.  This particular project requires a little scavenging if you want to keep things cheap and the 5-gallon bucket isn't quite enough hot water for the average family, but the mirrored solar pre-heater found on Wired actually pumps the heated water into a household tank.
Pedal Powered Generator
From laptops to cell phones to blenders – bicycle generators eliminate the need for electricity to power your favorite gadgets and allow you to stay in shape at the same time.  This particular pedal-powered charger was created by the librarian at Phillips Elementary School in Virginia – shouldn't all schools utilize these?!  You'll also find free plans for a solar assisted bicycle generator here or can purchase plans from the pedal power generating master, David Butcher, for $50 – including photos and online support.
DIY Hydro Power
It's scenic, it's rustic, it's tranquil – and it's clean, renewable energy.  This DIY water wheel was created with many recycled materials and generates about half of the designer's electrical needs – complementing the output of his solar panels at the New England home.  Hydro energy is an old, but not forgotten, sustainable energy option!
Human Powered Laundry Machine
Simple construction and easy, manual operation make this energy-free washing machine the perfect choice for developing countries, as well as off-grid living.  Designed by Michael Perdriel, the 'think-small washer' agitates clothes by pumping the mechanical arm and can clean a load of laundry in less than half an hour.  The machine is currently in use in Nepal and features a portable, wheeled design for convenient filling and emptying.
Homemade Solar Gadget Charger
A small DIY solar charger like this one is an ideal backup if the power goes out, but this project can easily be expanded to serve as much more than an emergency power source.  The version pictured here costs about $150 to build and can charge up cell phones, laptops, or iPods or could power a portable DVD player at the pool.  The 12-volt battery requires about 8 hours of sunlight for a full charge and the unit is perfect for camping use or at home.