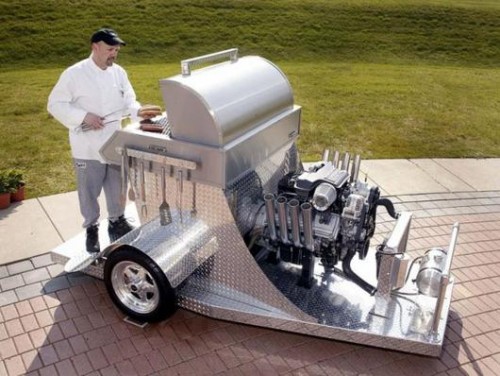 Just in time for the 4th of July, we've collected 10 eco-friendly BBQ grills to green your summer celebrations.  No, the mega Hemi-powered  grill above isn't too clean or green – although it will fire up a whopping 240 hotdogs in just 3 minutes, but the grills featured below are some of the friendliest options for your green outdoor cooking…
There's been plenty of debate over the best fuel for grilling – traditional charcoal produces all sorts of toxins, while propane and natural gas are nonrenewable resources that contribute a few chemicals of their own.  Aside from building your own solar oven, what are the best options for eco-friendly grilling?  
Clean and renewable solar power is always a winner and the Helios solar grill also boasts an innovative, futuristic design.  About the size of an average charcoal grill, this solar cooker soaks up the sun through a reflective parabolic dish and then transfers the energy to a receptor that heats the coil and grills your favorite foods.  The Helios also features a retractable plug for an electrical option when the sun isn't enough.
Definitely not as intriguing to look at but just as eco-friendly as the Helios, the Hydro-que is a hydrogen powered grill that eliminates the need for charcoal or propane.  Cooking with water power is a relatively new concept, but the Hydro-que table top model is available for purchase for $495.  The price may seem a bit costly compared to similar sized grills, but I'm sure it would pay for itself in fuel savings…eventually.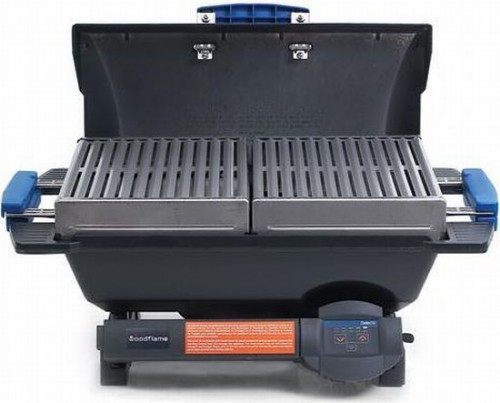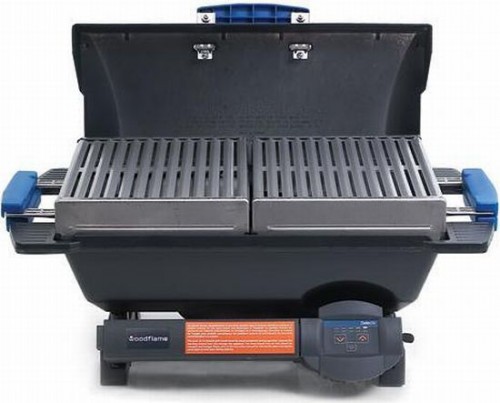 WoodFlame, a Canadian-based company, also offers a charcoal and propane-free grill option – although the true eco-friendliness of the portable  cooker is a bit questionable.  The WoodFlame is a wood-burning stove that also requires electrical power, either through an AC or DC source or 4 D batteries.  Our source claims that wood burning provides health benefits, while most organizations argue that burning wood produces toxins as well as medical concerns.  The WoodFlame grill only requires a small cube of hardwood, however, and is said to "perfectly combust", eliminating the typical pollutants and concerns associated with wood burning.
The FlameDisk by uGO is a clean alternative to charcoal grilling and offers a renewable option for gas and propane users – it's also relatively cost efficient.  Rather than replacing your entire grill with a greener version, the FlameDisk works with traditional cookers.  Instead of dirty charcoal, the disposable insert uses plant-based ethanol to cook clean and green.  Each disk provides about 40 minutes of cooking time, requires no warm-up time, and can be recycled after just 10 minutes of cooling.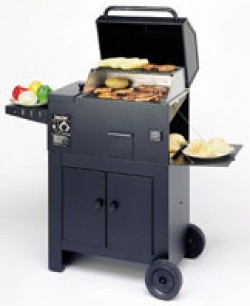 While these cookers look like your basic gas-powered BBQ grill, renewable plant-based fuel powers them as well – actual dried corn kernels, in fact!  Corn-burning grills are clean and safe alternatives that can be used on balconies and decks with no worry of fires.  They're also easy to clean – and you can grow your own fuel at home!
Electric BBQ grills are another option that provides a greener solution to outdoor cooking, especially if your home uses an alternative energy source other than fossil fuels.  Electric grills are also one of the easiest types of cookers to get your hands on – available from many different manufacturers.  Kamado grills are ceramic cookers, retaining heat to use less fuel and boasting gorgeous designs that become a part of your decor.  Kamados can be used with charcoal or gas, but the electric grill models are ideal for any setting – including balconies and indoors.
The Big Green Egg offers a ceramic BBQ grill too, although these require charcoal or wood as fuel and do not operate on electricity.  These grills are available in 5 different sizes, including a portable model and an extra large version, and the company offers a selection of electric and natural fire starters, natural lump charcoal, and an assortment of wood chips for a more environmentally safe grilling experience.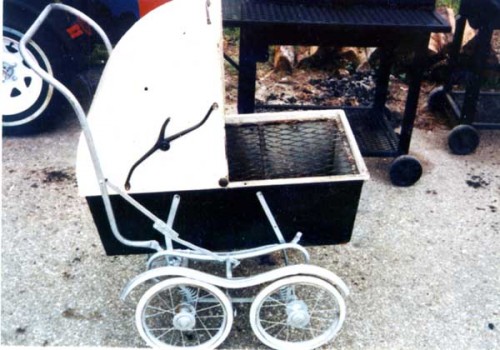 Eco-friendly?  Well, maybe not – but this intriguing and unusual BBQ grill recycles a forgotten (and antique) baby carriage…throw in some natural charcoal and fire up your organic steaks.  Unfortunately, this model isn't for sale but designer David Klose creates an assortment of unique smokers and grills – all made by hand rather than machines.
The first solar powered BBQ grill we featured in this post is still a concept, but the El Solito parabolic barbecue pictured above is available for $500 – or you can make your own solar cooker for a fraction of the price.  The El Solito grills meats and veggies with plenty of direct sunlight or can heat up a pot on a cloudy day.  You can also deep fry or bake with a solar cooker and never harm the planet.
If you're not in the market for a new eco-friendly BBQ grill or just can't bear the thought of cooking outdoors without charcoal, give the ethanol powered FlameDisk featured above a try or check out some other green charcoal alternatives like those from Big Green Egg or Enviro's biomass grilling accessories.