Who doesn't dream of their own private island – especially one that's eco-friendly and self-sustaining?
Celebrity islands are nothing new – but as more superstars adopt green lifestyles, we're seeing the number of celebrity eco-islands steadily rise. From hydrogen and solar power and desalination systems to organic gardens amid nature reserves, these green celebrities are going all out to decrease their carbon footprint.
Private Eco-Islands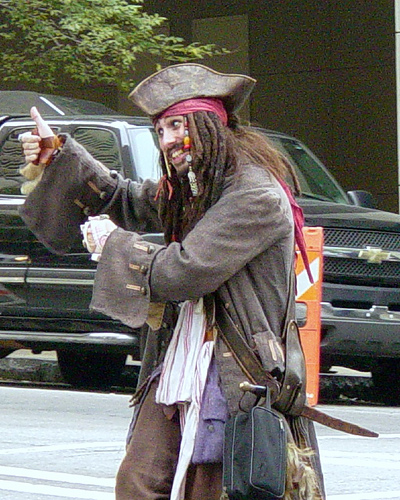 Johnny's pirate days are far from over – Little Hall's Pond Cay, spanning 35 acres of the Bahamas, has belonged to Depp since 2005. The island features 6 private beaches, a cottage, and a tiki hut but will soon boast the third, completely off-grid, solar hydrogen powered home in the world. Mike Strizki – featured in a previous post about amazing ways to use hydrogen power – designed the system that will power Johnny's eco island retreat.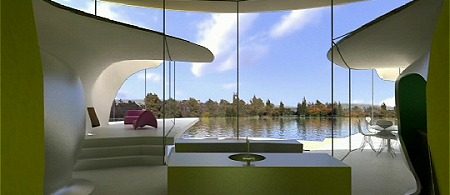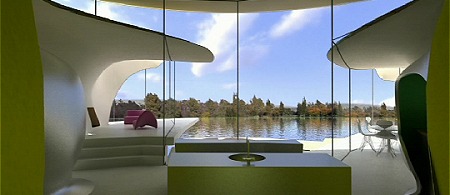 This odd-shaped beauty is one of several eco-homes integrated into the beauty of the Cotswolds. 48 unique designs will scatter the lakes of the 550 acre, privately-owned Cotswold nature reserve and will make up the Landmark Houses of Lower Mills Estates in the Cotswold Water Park. The Orchid House seen here was recently purchased by an unknown buyer, thought to be in the entertainment industry, and will take 3 years to complete. The house will operate on geothermal energy and an underground pump and is expected to produce a surplus of power.
If you prefer to buy your own eco-island getaway…
Kylie Minogue's charming 4 bedroom French Island farmhouse has been on the market for nearly a year now and was recently reduced to a $1 million price tag. The home, surrounded by organic gardens and orchards, is set on about 50 acres with panoramic views of the ocean. An additional 171 acre farm is also available as part of the Minogue estate, offering plenty of room for animals to complete the self-sufficient home. Solar and wind power generate the home's energy, with a back-up generator operating on diesel.
Or maybe a celebrity eco-island vacation is more your style?
This eco-paradise belongs to rocker Nick Hexum of band 311. While Nick is on tour, beautiful (and sustainable) Melody Key is available for rental for $8,000 per week and includes complete access to the 5 and a half acres of natural island pleasure as well as the 5,000 square foot home. A large-scale desalination system provides the island's water while a solar inverter generates all the necessary power. Whoever rents this celebrity eco-island getaway will definitely not be roughing it – state of the art WI-FI, a heated pool, and jacuzzi are just a few of the amenities. If you have an extra $4.9 million on hand, you could always buy the island. The price includes a couple of boats and a mainland lot for parking.
Leonardo DiCaprio's private island was purchased in 2005 for $1.75 million. Blackadore Caye is 104 acres of sandy beaches and tropical plant life, situated off the coast of Belize. DiCaprio's plans for the island include an eco-resort with private, beach front villas as well as a landing strip for visitors with private planes. While many of the features on this eco island seem far from environmentally friendly, the structures are supposed to be carefully integrated into the landscape so local wildlife is undisturbed. Construction is scheduled to start on Blackadore Caye sometime this year – you can see DiCaprio's eco island vision here.
Located just a mile and a half from Sir Richard Branson's glamorous Necker Island, Moskito Island is a part of the British Virgin Islands and is Branson's third private island. Plans for the resort are still under review but include a beach front restaurant serving organic food grown on the island and 20 private villas constructed from local timber. The eco island will be powered by wind turbines and solar energy, while taking advantage of the Caribbean breeze to minimize cooling needs. Biofuel-powered beach buggies will provide transportation around the carbon neutral resort. Plans to create a more eco-friendly Necker Island are said to be underway as well.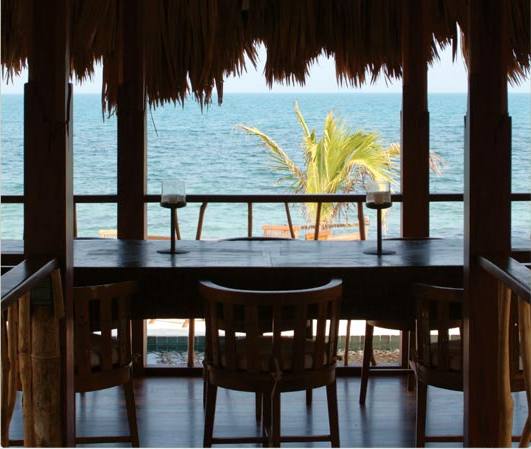 The last eco resort on our list is not really a celebrity island but well worth a mention for its eco friendliness and star appeal. Amidst the ancient Mayan ruins of Belize, Francis Ford Coppola's tropical paradise is compromised of 3 unique resorts – the first, Blancaneaux, featuring Coppola's personal villa; La Lancha, with exquisite river front cabins; and Turtle Inn on the Belize coast, boasting private seaside villas with secluded gardens and outdoor showers. Organic gardens and orchards provide 80% of the resorts meals and fresh eggs are gathered daily from the on-site chicken coop. Guests can also enjoy a bottle of Coppola's fine wine while taking in the scenery from their open-air cottage.
Whether it's a private retreat to get away from it all or a fabulous resort to share with their wealthiest fans, green celebrities are going all out with their eco islands. Melody Key is my personal fave – too bad its way out of my budget! What are your thoughts on these celebrity eco islands?