There's always something new in the realm of indoor and outdoor lighting. Though we've featured many spectacular lighting innovations in the past, here are some more for your viewing pleasure – everything from illuminated umbrellas to soy fat lightbulbs to cell phone-controlled street lights.
New energy efficient lighting for indoors
Remind yourself that light doesn't get created out of nothing by doing a little work for your illumination. This math challenge lamp by Mingyu Jeung requires you to do a little calculation before the light can be switched on.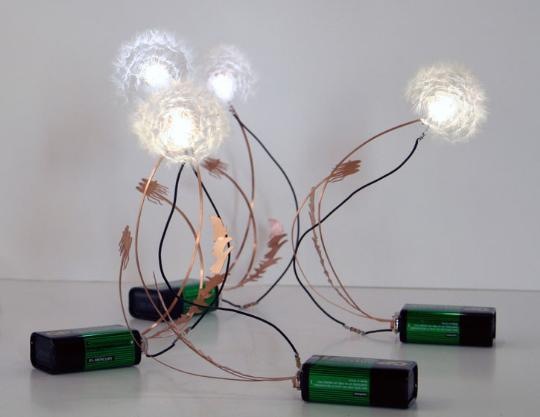 In a true fusion of nature and technology DRIFT designer Lonneke Gordijn of the Netherlands has combined dandelionseeds and LED lights in this evocative design called Dandelight. Securing each individual seed to the LED light makes them relatively durable, but they should be handled with care.
From Amsterdam designer Jonas Samson, here's another light-emitting wallpaper option. His subtle Asian-inspired options can either be illuminated or not depending on your mood, and when "off" it's indistinguishable from regular wallpaper.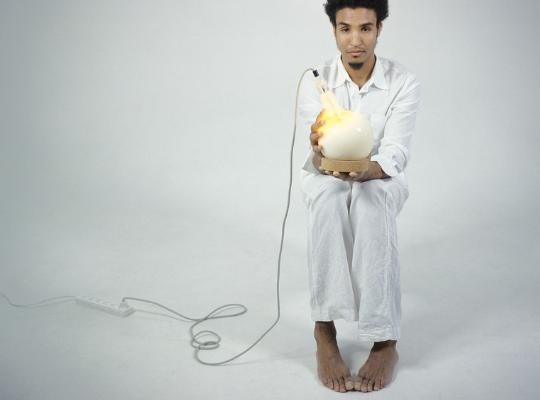 From Droog Design by NEXT Architects, this Slow Glow light is filled with soya oil (no mercury!). Once called the fatlamp, when switched on the bulb slowly warms, turning the solidified oil into liquid which becomes increasingly luminescent minute by minute.
Ever find you're stumbling about in the shower looking for that dropped bar of soap? No more! With the ECOlight Water Powered Shower Light by Sylvania you can wash your lighting woes away.  This battery-free device installs easily, is powered by the water you're using to wash, and provides just enough light for a soothing morning shower using a soft LED bulb.
Just when we thought OLEDs were the only thing in new lighting designs, Seattle-based Vu1 comes up with a new alternative: the Electron Stimulated Luminescence (ESL) bulb. Using accelerated electrons to stimulate phosphor to create a "glowing" light, ESLs produce the same quality light as CFLs but with less energy. And unlike expensive LEDs and mercury-laden CFLs, ESLs are both mercury-free and affordable.
But even with the most efficient bulbs on the planet, we sometimes forget to turn off the lights. Blink eliminates the worry of leaving lights on when they're not needed by using a photocell-controlled switch to turn lights off when it's sunny outside.
Outdoor power-saving lighting innovations
No longer do we have to light empty streets. The Dial4Light technology allows cell phone users to turn streetlamps on only when they're needed, keeping them lit for a 15-minute grace period until you're safely away. Could save cities 25 percent in light electricity bills.
You can sing in the rain all you like with this LED-illuminated umbrella known as the LightDrops Umbrella by Sang-Kyun Park. This innovative lighting design turns the potential energy of raindrops into electrical energy with a polyvinylidene fluoride (PDVF) conductive membrane. The bigger the downpour, the brighter the light.
Lighting streets with energy-free lamps just got more engaging with these wind-powered Firewinder lights. Designed by UKer Tom Lawton, the Firewinder powers the LED lights with even a light breeze as it spins on a horizontal axis, providing light and a show all in one.
In another wind-light design, this Light Wind option is modeled after Dutch windmills and can store energy for those times when the wind speed is low.
And just in case you're without wind, this wind-solar hybrid streetlamp will do the trick, providing illumination come cloudy or windless day.