Prefab homes are great – but recycled buildings are even better! Whether it's a new construction from rescued garbage or or a creative conversion of an existing structure, these recycled buildings are minimizing waste and improving the planet. They're also creatively awesome examples of how unique green architecture can be!
What good is a boat that no longer floats? It makes a wonderful recycled house! This decommissioned boat was designed by Henry Ford and contains elegant state rooms with an unbelievable galley and sophisticated lounge. The new owners salvaged the front portion of the ship and turned it into their home on South Bass Island.
Trains can make amazing recycled buildings too. We've all seen restaurants and boutique shops housed in antique cabooses or old train cars. Contemporary designer, Marc Riera, turned this 1949 sleeper car into a modern home. The 85-foot long train house is parked on a private railroad lot in Southeast Portland and sells for $225,000.
This lakeside home is truly one-of-a-kind – and only cost about $30,000 to construct! The retired 727 was transformed into a recycled dream home by hairdresser Joanne Ussery.  The airplane house features a jacuzzi tub in place of the former cockpit, remote control access to the original folding stairs, and a working jet-style bathroom.
Planes, trains… and, yes, automobiles. Rob Boydstun of Boydstun Metal Works has launched a new company, Miranda Homes, that constructs traditional stick-built family houses from crushed cars. Rather than wood, these homes are framed with recycled steel from junked cars. The structures exceed Energy Star efficiency standards and can be built in a fraction of the time with just a third of the labor needed for wood-framed houses.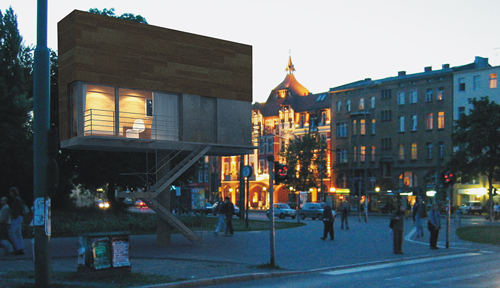 Have you ever thought of living in a billboard? Front Architects in Poland have created a billboard house concept called the Single Hauz.  The aerial homes could be erected in a city setting, in the middle of a lake, or beside a cliff – with plenty of living space as well as room for advertising.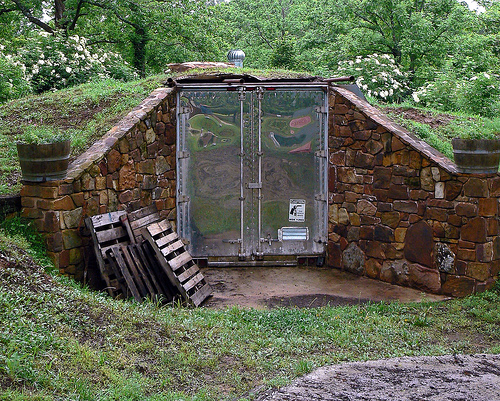 We've featured some creative shipping container houses in the past, but Nuyaka Creek Winery in Oklahoma has reused a refrigerated truck trailer to construct an intriguing wine cellar underneath the elderberries.  The recycled building already keeps a cool temperature because of it's underground design, the insulated trailer ensures perfect wine!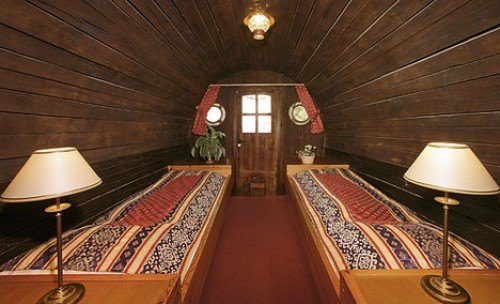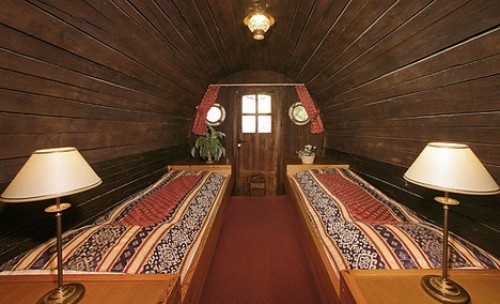 Speaking of wine, the next time you're visiting Holland book a stay at the Hotel De Vrouwe van Stavoren and sleep inside a rescued wine barrel. There are 4 of the recycled hotel rooms available, each furnished with 2 beds, a television, and a bathroom. The wine barrels are set in a traditional hotel atmosphere with adjoining outdoor porches and fresh flowers.
Beer cans, rocks, hubcaps, and wires are just a few of the materials used to create Cano's Castle. The UFO-looking structure is the recycled home of Native American Cano in Antonito, CO. The intriguing beer can folk art was a 20-year project of drinking and collecting junk.
It may have only lasted 3 days, but the World Environment Day 2005 project, ScrapHouse, is an amazing example of the possible options for recycled buildings. After planning the design, the team of architects, engineers, and builders spent 3 weeks searching for rescued and reused materials and another 2 weeks building the exhibit. Street signs, traffic lights, used conveyor belts, and fire hoses are just a few of the weird components used to manufacture the house. (Images by Cesar Rubio Photography. Copyright 2005, Public Architecture)
Once a water tower, this repurposed structure now houses a unique vacation rental in Sunset Beach. Besides spectacular views, the home features a 2-car garage, a ground floor suite, and personal movie theater. It's not eco-tourism, but rental rates are $4,000 per week.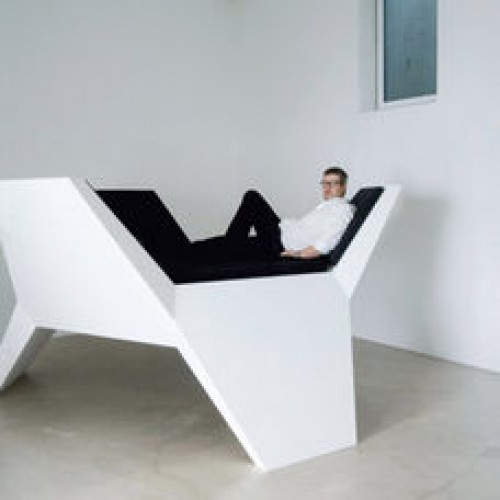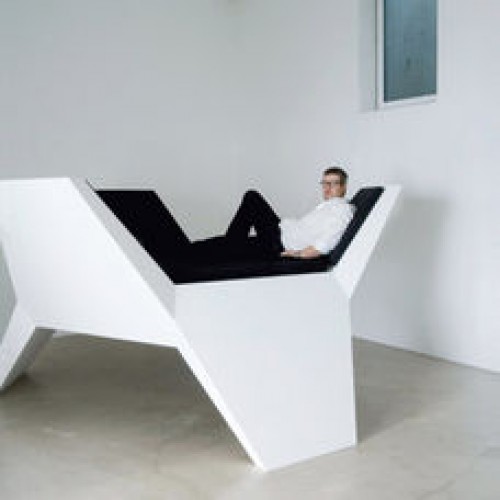 The Pixel Hotel is an assortment of 6 recycled hotel rooms spread throughout the 2009 European Capital of Culture – Linz, Austria. An abandoned cabinetmaker workshop, unused rooms within a design gallery, and an old tugboat docked in the harbor are a few of the intriguing locations chosen for the Pixel Hotel. Pixel in der Galerie is a spacious accommodation surrounded by the art of Thomas Feichtner. The king-sized bed inside the gallery hotel room is also one of the artist's personal creations.