From people-powered gadgets to gyms and dance clubs operated by human energy, Ecoble has featured a number of fascinating human-powered innovations in past posts. Technology is advancing so fast, it's time to highlight a few more intriguing ways people are making use of the power of humans.
Is it a bike? Is it an RV? It's the Human Powered Housing Project that Brian Campbell calls home! The 15-foot bicycle boasts a large shade canopy, a motorcycle-style windshield, and a place to sleep – all transported by pedal power.
Created by Alex Gadsden, the Cyclean is a pedal-powered washing machine that runs on 100% people-power. Visit the Cyclean forum to discuss plans to make your own or check out Homeless Dave's version of the human-powered washer.
The 32-passenger pedal bus was created a few years ago by technology students in the Netherlands. The bus was built on a truck frame and uses 80m of bicycle chain!
Watch a movie, cool down by the breeze of an electric fan, or create a personal umbrella-planetarium while relaxing in your favorite rocking chair. The rocking chair generator was designed by three students in a quest to produce energy in a "silent and recreational environment". This invention has lots of potential – even the little ones can rock away to produce their own power!
There's no need to rely on sun or wind with this human-powered laptop charger. Soon to be released by Easy Energy, the YoGen Max is a classic foot pump that delivers a charge to your computer with each step. An optional rechargeable battery pack can store your kinetic energy for a less-tiring experience.


Leave the solar chargers at home on your next backpacking journey – a team of mechanical engineering students designed this energy-harvesting backpack to serve a double purpose. Electrodes and nanotechnology are used to create unique straps that store power with every single step. Twenty minutes of trail time equates to about 2.5 minutes of talk time.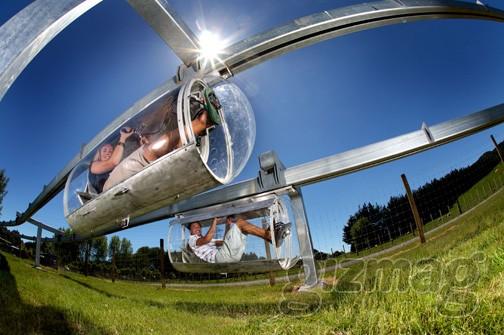 For now, the Schweeb is a human powered monorail adventure ride at a New Zealand amusement park. Designer Geoffrey Barnett sees his creation as the zero-emissions public transport system of the future.