Biodegradable products are making a big difference in green living. We're using biodegradable trash bags, frequenting restaurants that care enough to use biodegradable take-out containers, and have switched to biodegradable soaps – but what about biodegradable cars, clothes, bikes, and motor oil? Take a look at some of the weirdest biodegradable products we've come across…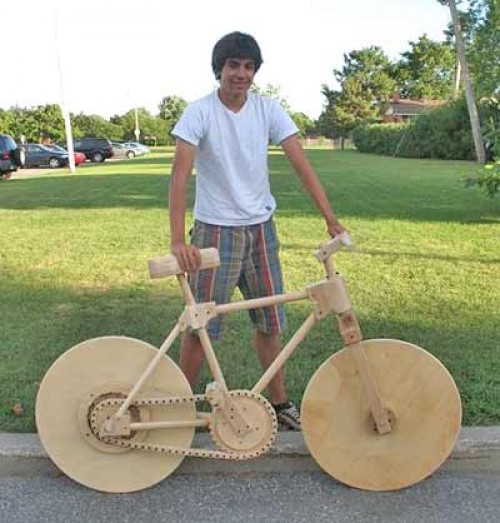 Every single component on this biodegradable bicycle was designed and made by 16-year-old high school student, Marco Facciola – right down to the ratcheting system created for downhill coasting. Facciola created the bike entirely from wood and glue as a 'personal project' for his academic career.
Eco-friendly cell phones are already hitting the market, but this biodegradable gadget is made of hay. The phone's screen and keypad are designed to be recycled, while the rest of the handset naturally breaks down within 2 years. Most of us trade in our cells within that time period anyway, but would a grass phone be durable enough to last a year?
Have you ever thought about the landfill litter umbrellas can cause? Brelli obviously did before introducing their biodegradable line of umbrellas. The umbrellas are made of bamboo, featuring a bioplastic canopy. The entire umbrella will decompose within a year-and-a-half to 2 years – although I would imagine that heavy usage would speed up the process.
Vegetable-based plastics are used to manufacture the latest eco-friendly camera from Sony and kinetic power eliminates the need for batteries. The Odo camera requires a few seconds of rolling before it's ready to take a pic, but the quality is supposed to be decent, and the biodegradable casing and lack of batteries is a big plus for the planet.
Hospitals have gained a bad rep for their traditional eco-unfriendliness. While medical facilities across the nation are adopting greener practices – nontoxic paints and cleaners, solar power, green roofs – Toronto based Vernacare is adding a new option. The biodegradable bedpans are made of old phonebooks and beeswax, they're not as uncomfortable as cold metal, and when their life is over – they're flushed down the toilet!
The Eco One is a biodegradable sports car, created by students at Warwick University in England. The brake pads are made of nut shells; the tires – potatoes; and the body of the car is crafted from hemp. While the car still uses steel for a durable chassis, the creation aims to be at least 95% biodegradable or recyclable – and boasts a top speed of 125 mph.
Is it a chair or is it a garden? Maybe a bit of both! This biodegradable furniture is designed by Shinwei Rhoda Yen and grows some variety of mushrooms during its life cycle. The wooden bench is embedded with mushroom spores – not sure if they're edible 'shrooms, but the entire chair will compost back to nature when its time is over.
If motor oil was biodegradable…Green Earth Technologies has introduced a new line of biodegradable engine oil – made from cow fat. When it's time for an oil change, mix the old stuff with a little G-Disposoil and the waste turns into nutrients that are actually safe for the earth. G.E.T. offers a variety of biodegradable oil for boats, ATVs, lawn equipment, and biodegradable car care products.
A trend toward paperless living hasn't eliminated the need for a good ink pen.  How many of these disposable plastic tubes are thrown out, lost, or otherwise left to litter the planet each day? Biodegradable pens solve the waste problem created by our favorite writing tools. These pens are made of Mater-Bi, a biodegradable plastic-like material made of cornstarch, and will decompose within a year.
Stinky, sweaty midsoles are another landfill disaster – typically taking as long as 1,000 years to decompose. Brooks Sports has developed BioMoGo – a biodegradable shoe midsole that can eliminate almost 30 million pounds of trash within a 20 year period.