Although some eco-boats are powered by human fat and others by animal fat, more traditional "fuels" that are clean and green include solar and wind, or both – abundant resources on the open water. Turning a dirty, yet nature-dependent past-time into one that has low- to no-impact is a challenge, but new technologies are making dreams of green boating a near reality.
Ugo Conti – Spider Boat 2
Inspired by the desire to be at sea without the sea-sickness, Ugo Conti used his engineering expertise to design what some are calling the spider boat. The Wave Adaptive Modular Vessel (WAM-V) skitters across the water's surface like a fast-moving insect.
Because it doesn't slap or pierce the waves, it's incredibly efficient and provides exceptional stability. This characteristic combined with a flexible superstructure gives the vessel a shock-absorbing, stress-less structure that minimizes movement.
By switching out the payload module for an alternative module, this boat can go from luxury cabin for two to twelve passenger transport to oceanographic lab to emergency response unit – each swap taking less than one hour.
[youtube]http://www.youtube.com/watch?v=q0MZzFT3XpQ&eurl=http%3A%2F%2Fwww.treehugger.com%2Ffiles%2F2009%2F02%2Fugo-contis-spider-boat-is-super-fuel-efficient.php&feature=player_embedded[/youtube]
SolarLab – London SolarShuttle
As the UK's first solar-powered boat, the Serpentine SolarShuttle by SolarLab is powered by a shimmering glass canopy and floats along steadily, propelled forward by two ultra-quiet electric motors. It collects energy all day long, funnelling any excess into the national grid.
The solar array can generate between 9 and 12 amps of energy per hour when it's overcast (a common condition in foggy London), can store up to 80 miles-worth of energy for those totally cloudy days, and can even go 20 miles when it's completely dark. It carries 37 passengers at a time, cruising at 5 miles per hour.
Solar Sailor
Offering quiet, zero water pollution options for recreational  yacht enthusiasts and river boaters alike, Solar Sailor has emerged with options for a variety of purposes. They offer 14 passenger cruisers and houseboats that operate using a hybrid energy system that combines solar and wind energy with hydrocarbon or alternative fuels for a near no-impact sailing experience.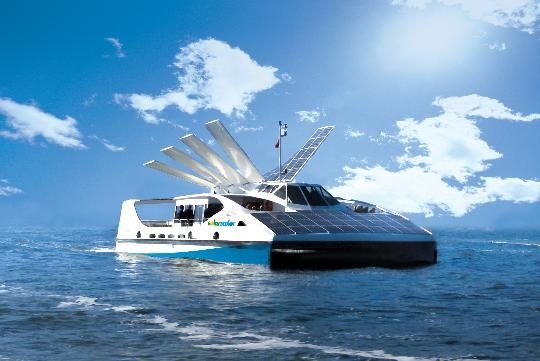 Their patented Solar Wings can harness both wind and solar which are used simultaneously or singularly depending on the weather. The wings follow the sun and/or the wind for optimal energy generation.
These boats can be used on open ocean , on rivers, lakes, and canals. They even offer the Aquatanker, which is intended for oceanographic, military, and national security operations. The vessel can take advantage of both wind and solar – like its smaller counterparts, the Aquatanker has rigid sails that propel via wind when there's little sun and can be folded onto the deck in severe weather. Those same sails collect solar energy during daylight hours.
Volitan – Zephyr of the Sun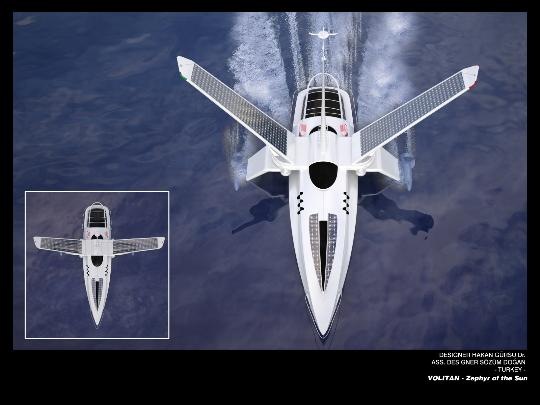 In a similar take on the rigid-sail design, the Volitan offers emissions-free sailing to those wanting a life on the sea without the footprint of a massive yacht (yet it still includes six bedrooms, a bar, a TV room, and a lounge, among other amenities).
Designed by Designnobis Studio, the Volitan means "flying fish" – an apt name given how it moves through the water. Like other solar boats of its kind, this one's sails can track the movement of the wind and sun and in incredibly inclement weather, they fold up against the boat.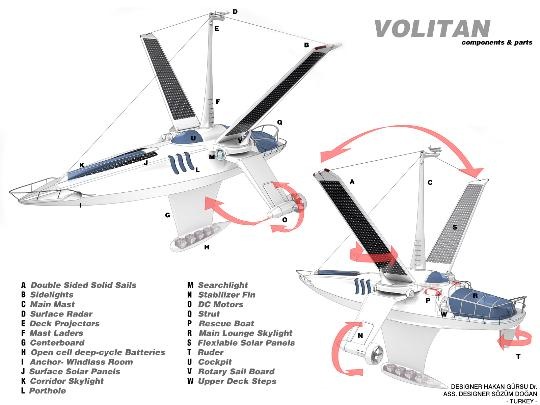 The sails are controlled by a networked onboard computer that makes adjustments to the sails as needed to capture the maximum energy possible.
[youtube]http://www.youtube.com/watch?v=Q6VjM2zrLkk[/youtube]