World's fastest wind-powered car – the Greenbird
Wind power is slowly finding a role in our sustainable future – and the possibilities are endless!  The United States doubled their wind-power facilities in 2008, now creating over 25,000 MW of wind-generated electricity each year.   But the potential of the wind as a renewable energy source reaches much further than typical wind farms – check out these innovative wind-powered creations…
Dubai receives plenty of wind throughout the year.  These intriguing residential skyscrapers are designed to take complete advantage of the wind available.   A wind turbine is housed between each level for a total of 48 turbines per building – generating nearly 12 times the amount of energy needed for the apartments.  Designed by Dr. David Fisher, the wind-powered skyscraper features 80 floors that rotate independently.   
Theo Jansen creates 'kinetic sculptures' that explore the many facets of mobility.  The wind powered robot pictured above is one of his creations.  Watch it in action below:
[youtube]http://www.youtube.com/watch?v=WcR7U2tuNoY[/youtube]
Wind-powered outdoor lighting is another possibility.  This innovative street lamp was modeled after traditional Dutch windmills, harnessing enough energy to light the night while storing power for less-windy days.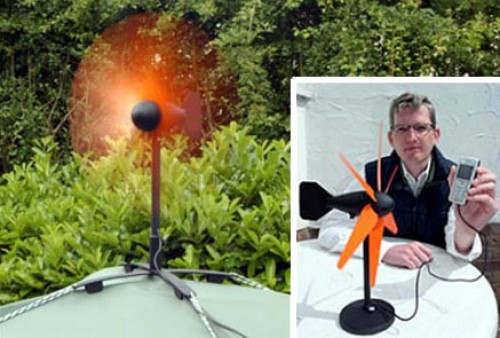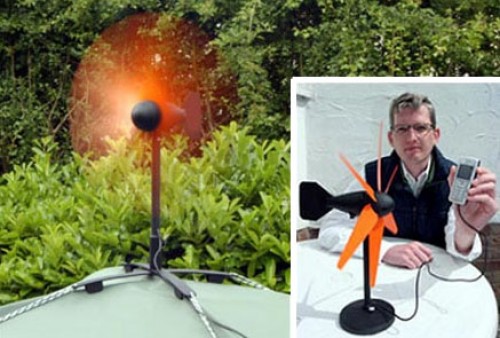 This wind powered gadget is the perfect camping companion.  The GotWind wind charger attaches easily to the top of a dome tent and stores power from the breeze to charge up your cell phone, iPod, or other portable device.
If you're in the market for a wind powered gadget charger but prefer something a bit more portable, the handheld Hymini may be the answer.   The Hymini can capture power on your arm while you're jogging or can gather the wind from the handlebars of your bicycle – the on-the-go charger can also store energy through a regular power outlet.
The Headwind Bicycle is a 3-wheeled wind powered vehicle designed by German professor, Gustav Winkler.  Winkler first thought of the concept of a wind powered bike at age 10, but designed the Headwind with the help of his students. 
Sony Ericsson's Tower Tube is now wind-powered.  The Tower Tube was already the best-looking, as well as the most eco-friendly cell tower on the landscape – requiring 40% less energy than traditional towers.  Still in the testing phases, the wind-powered version may create enough energy for the tower to operate on 100% renewable power.
This wind powered record player was designed and created by artist Alex Baker, part of his Ear Trumpet series – and it works!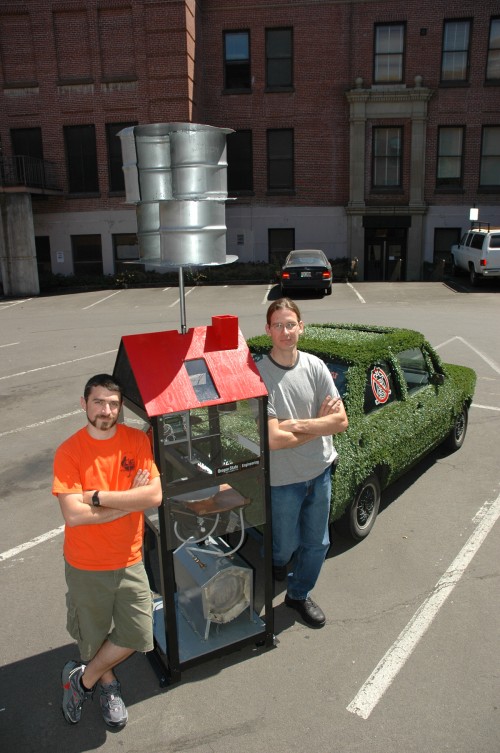 Oregon State University engineering students created this wind powered water heater based on drawings left behind by a late professor. The innovative creation was made in 2006 and was said to work, but the technology has still not made it past the initial design.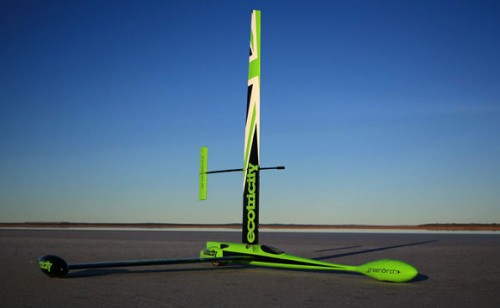 There are several different versions of wind powered cars, but the Greenbird is the fastest.   The car's designer, Richard Jenkins, recently drove his wind-powered creation to a top speed of 126.1 mph – breaking the previous world record for wind powered vehicles of 116 mph.