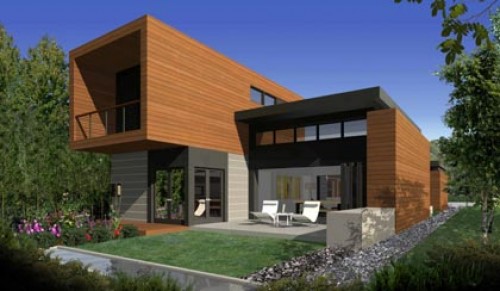 Pre-fab housing is intriguing, functional, and eco-friendly – just a few reasons we love to highlight these fascinating green designs on Ecoble!  We've looked at FlatPak homes, creative container houses, and briefly glanced at SIPs and modulars in previous posts.  Green design is advancing so quickly, it's time to focus on a few of the newest pre-fab creations…
Steel is becoming a popular option for eco-friendly prefab.  EcoSteel works with green designers to manufacture custom-built, LEED-rated residential, commercial, and community buildings and homes.  Each project features recycled steel that can be created to withstand earthquakes or hurricanes, improved indoor air quality, and energy efficient foam core panels. (via The Alternative Consumer)
Eco-friendly builder, Living Homes partnered with architect Kieran Timberlake at the beginning of 2009 to offer a new line of sustainable pre-fab housing.  Recycled glass tiles, biocomposite wood siding, and energy-efficient steel are only the beginning of the eco-features integrated into the homes.  Five models are currently available, starting at about $185/sq-ft and offering up to 2,275 square-feet of living space. 
Powerhouse Enterprises specializes in eco-homes that use clean, healthy materials and a combination of passive and active solar energy to generate grid-free electricity.  The Massachusets company designs single-family and multi-unit powerhouses, as well as the flexible and functional PowerPod pictured above.  Powerhouses are similar in price to traditional homes, but are more efficient and nowhere near as wasteful! (via TreeHugger) 
Blu Homes are another new addition to the custom green prefab lineup, offering a 40% smaller carbon footprint than traditional houses.  Four options are currently available, each available with a variety of custom options.  The homes take 2 to 3 months for manufacturing and can typically be set up within a day.  The Blu Home above was on exhibit at the Maker Faire in Austin, as well as the Museum of Modern Art in New York, and was built with friction-joined plywood without the use of nails, fasteners, or glue.
Blue Sky Homes just recently completed their prototype pre-fab home – erected 4,000-feet above sea level without disturbing the natural High Desert surroundings.  Rather than wood framing, Blue Sky Homes are constructed of durable steel and can be manufactured and assembled in about 6 short weeks.  The California-based company currently offers customizable models with 500, 1,000, or 1,500-square-feet. (via Jetson Green)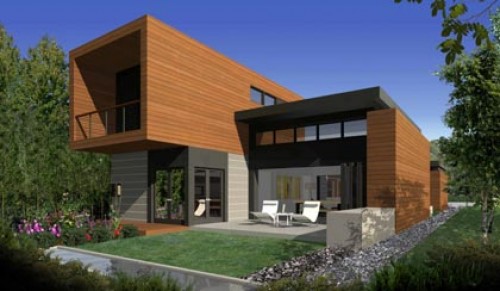 Michelle Kaufmann Designs creates luxurious pre-fab homes currently available in most west coast cities.  MKD offers 7 unique and customizable family residences, as well as custom green designs and eco-communities.  Your MKD home can be ready for move-in in about a year and costs $250 to $300 per square-foot, including site preparation.  Every house is solar-ready and built with eco-friendly, toxin-free materials. 
Method Homes offers beautiful, energy-efficient factory-built houses that can be manufactured and constructed in only 3 months.  The model cabin shown above was completed in August, 2008 and can be rented for $250/night.  Method Homes offers a variety of floor plans, available in 3 series – the Cabin series, customizable homes ranging from 1,200 to 2,800 square-feet; Balance S-M-L series, a collection of small, medium, and large prefab units with a variety of functions; and the Urban series, coming soon. (via Inhabitat)

The Clayton i-House has only been available to the public for less than a month but promises to bring an all new look to trailer parks.  The i-House is manufactured in 4 of Clayton home's plants to reduce transport emissions and can be customized with eco-friendly appliances, solar panels, bamboo flooring, and several layout options.  Fully-loaded, the i-House could be powered for less than a buck a day and costs a fraction of the price of a comparable stick-built home.